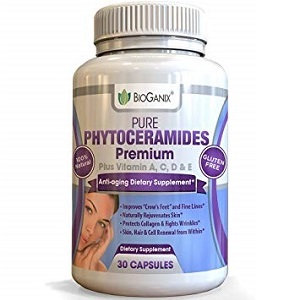 BioGanix Pure Phytoceramides Premium - Does It Work?-Review
What is BioGanix Pure Phytoceramides Premium?
Read our Pure Phytoceramides Premium review which examines this product. It is also known as Pure Phytoceramides Premium Plus Vitamins A, C, D & E. This anti-aging supplement product is manufactured by BioGanix. The manufacturer claims that this supplement 1) helps to improve crow's feet and other fine lines and wrinkles, 2) rejuvenates the skin, 3) protects the skin's collagen, and 4) renews the hair and skin from within.
Ingredients & How It Works
Vitamin A (as retinyl acetate) (5000 IU)
Vitamin C (as ascorbic acid) (60 mg)
Vitamin D (as ergocalciferol) (400 IU)
Vitamin E (as dl-alpha-tocopheryl acetate) (30 IU)
Ceramide-PCD (Providing glycolipids, phytoceramides and glycosylceramides) (40 mg)
Ceramide PCD, derived from rice, (plant derived)
This product is gluten free and does not contain any fillers. These ingredients help to lessen fine lines by enhancing the skin's ability to preserve moisture. Collagen is lost over time: this hydration helps to replace the collagen, reducing the signs of aging. This phytoceramides used in this product is not sourced from wheat, but from rice.
Daily Serving
The manufacturer recommends that one (1) capsule be taken daily with food. The manufacturer makes no mention of what time of day it is best to take these capsules, for optimal results.
The Cost
One 30-capsule bottle (a month's supply) is available online at $16.97. The only discount available ( 10%) is on a customer signing up for a subscription: cost will be $15.27 per bottle. However, these contract services send out bottles every month. Should a customer wish to skip a month, the credit card will still have a deduction. These contracts can be difficult to cancel.
Guarantee
The manufacturer offers a 60-day money-back guarantee. If a customer wishes to return a product, the company must be emailed, and a reason given for return of the product. Seeing that the manufacturer states that the product may be returned if the customer is dissatisfied, this implies that the company will accept opened bottles as part of this full money-back guarantee. However, no mention is made of possible charges deducted from the refund.
Our Review Summary Of Pure Phytoceramides Premium
This anti-aging supplement by BioGanix has certain good points, such as the 60-day money-back guarantee. This reduces the risk for the consumer. Also, the formula is enriched with vitamins to help to protect skin health. However, the product Pure Phytoceramides Premium also has some shortfalls. For instance, the company offers no discounts unless a customer signs up for their locked-in subscription service. Such services are notoriously difficult to cancel, the fee on the credit card simply continuing to be deducted. Of most significance is that it has been clinically proven that 350 mg of phytoceramides daily gives optimal results. However, this product contains less than 40 mg of this substance.
Well researched reviews, from the experts at Research & You.