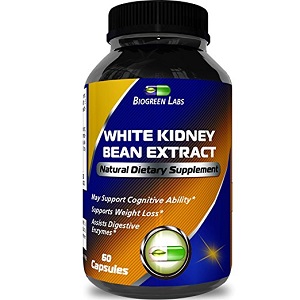 Biogreen Labs White Kidney Bean Extract Natural Dietary Supplement - Does It Work?-Review
What is Biogreen Lab's White Kidney Bean Extract Natural Dietary Supplement?
The subsequent review is on the product White Kidney Bean Extract Natural Dietary Supplement. The makers of this dietary supplement claim that this product can support cognitive ability; support weight loss, and help produce digestive enzymes. Weight loss is caused by blocking of excess carbohydrates, preventing carbs from turning into sugar and then into fat. In addition, as this product is high in fiber, you will remain satisfied for longer, thus eating less. Lastly, the high antioxidant level promotes health.
Ingredients & How It Works
2 capsules contain 1200 mg of White Kidney Bean Extract. This substance, which is high in vitamins, minerals, antioxidants, and fiber, is said to support the heart. However, it is also used as a carb blocker, and for weight loss and weight management.
Other inactive ingredients are vegetable capsule (cellulose), rice flour, and magnesium stearate. Even though the capsule is vegetable based, the manufacturer does not state whether the magnesium stearate is sourced from animals or vegetables. Rice flour is used as a bulking agent.
Daily Serving
The recommended dosage is 2 capsules once a day with 8 ounces of water; alternatively, as directed by a doctor. Those pregnant, nursing, on prescription medication, or about to have an operation, should consult a doctor before taking this product. If adverse reactions occur, discontinue use.
The Cost
Our research found White Kidney Bean Extract Natural Dietary Supplement available on third-party sites at $10.79, including shipping fee. On a purchase of 2 or more 60-capsule bottles a 15% discount per unit is offered. No further discounts are available.
Guarantee
The manufacturer has a 100% money-back guarantee, no questions asked. Product must be returned within 30 days of purchase.
Our Review Summary of White Kidney Bean Extract Natural Dietary Supplement
White Kidney Bean Extract Natural Dietary Supplement is GMP certified, and backed with a 100% money-back guarantee – no questions asked. Its ingredients, such as White Kidney Bean Extract, are known to block carbs, suppressing hunger and resulting in weight loss. However, the policy of not requiring feedback will not allow the manufacturers any consumer insights into their product. Problems may therefore not be corrected, nor the formula improved. This product is not suitable for vegans and vegetarians, as it contains gelatin. As stated, there is a money-back guarantee. However, our research found that of a total of 246 reviews on Amazon lodged by 26 January 2018, 0% were reliable. In addition, Amazon deleted 219 reviews. Reviews are normally a good gauge of how genuine purchasers experience a product, including the benefits and the side effects. However, these reviews have high deception factor, with 100% of reviews being of low quality. Any buyer should therefore tread lightly before considering this dietary supplement. With so many other, similar carb blockers on the market, most having positive reviews, it would be better to make use of a more reliable slimming product.
Well researched reviews, from the experts at Research & You.