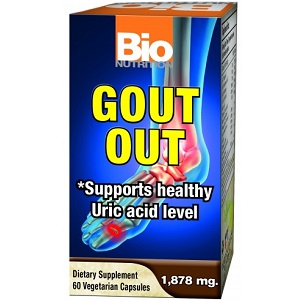 BioNutrition Gout Out - Does It Work?-Review
What is BioNutrition Gout Out?
Our thorough review of the product Bio Nutrition Gout Out aims to help customers make a decision regarding the efficacy of the product. This product is a synergistic blend of fruit extracts, vitamins, and herbal extracts which have been formulated to support healthy uric acid levels. It also strengthens immunity and aids in removing gout deposits from joints. Further, it helps to detoxify the body and reduce inflammation in the body.
Ingredients & How It Works
The product Gout Out has the following ingredients:
Vitamin B1 (Thiamine)
Vitamin B5 (Pantothenic acid)
Vitamin B6 (Pyridoxine)
Vitamin B12 (Cobalamin)
Folic Acid
Vitamin C
Black Cherry extract (Freeze dried 4:1 extract)
Celery seed extract
Alfalfa
Boswellia (65%)
Devil's Claw (extract 4:1)
Turmeric (providing 95% curcumin)
Other ingredients found in the product are silica, vegetable stearate, vegetable cellulose.
It is free of gluten, yeast, corn, dairy, salt, sugar, wheat, soy, and preservatives.
The B vitamins are a group of water-soluble vitamins that play important roles in the body. Turmeric contains curcumin and is often used as a herbal supplement, cosmetics ingredient, food flavoring and food coloring. It is used for its anti-inflammatory properties. Vitamin C helps the body's natural ability to cleanse and detox. Black cherry extract is known to help reduce uric acid levels.
Daily Serving
It is recommended to take 3 capsules a day of Gout Out regularly to maintain a manageable blood uric acid level. In case a gout attack flares up, it is advised to increase the dosage to 3 capsules three times a day.
It is advised to see a doctor if any side effects or allergic reactions to individual ingredients are experienced by the customer.
The Cost
This product is available in the form of a capsule and contains 60 servings. The product can be purchased online, directly from the manufacturer's website at a price of $19.95. The manufacturer also mentions the list of retail stores from where this product can be purchased.
Guarantee
The company guarantees the quality of the product and honors the value it offers by offering a satisfaction guarantee for a period of 30 days. If you are dissatisfied with the results of the product, you need to return the unused portion in the original packaging (must include an outer box with UPC code) along with the dated receipt from the retail location it was purchased from and also the reason of dissatisfaction, after which the company will issue a full refund.
Our Review Summary Of BioNutrition Gout Out
The product Gout Out is suitable for people suffering from gluten sensitivities and also for vegetarians. It is also priced reasonably. The money-back guarantee is another good feature about this product, although 30 days does not really seem like enough time to really try the product out. However, the high-end recommendation of nine capsules per day seems unreasonable to us. There are other gout supplements available on the market which come in much more concentrated doses and do not have to be taken so often throughout the day.
Well researched reviews, from the experts at Research & You.