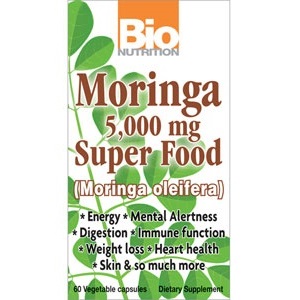 BioNutrition Moringa Superfood - Does It Work?-Review
What Is BioNutrition Moringa Superfood?
This is a review of BioNutrition Moringa Superfood. The claims made by the manufacturer is that this formula improves digestion, mental alertness, immune function and heart health. It is also said to increase energy, assist with weight loss and contribute to overall health. Read our review to find out if this is a healthy addition to consider.
Ingredients And How It Works
This supplement only contains 5000mg Moringa Oleifera. It is rich in potassium, iron and in Vitamins A, B and C. It further also contains antioxidants, co-enzymes and amino acids.
Inactive ingredients included in this formula are Silica, Vegetable Stearate and Vegetable Cellulose. It is free of preservatives, artificial ingredients, soy, wheat, salt, sugar, corn and yeast.
We feel that the only ingredient that should be included in a Moringa formula is Moringa Oleifera. It really is not necessary to include fillers and binders as these make the formula not as good for your overall health as pure Moringa formulas. There are many pure Moringa formulas available on the market which do not contain Silica or Vegetable Stearate.
Daily Serving
One capsule should be taken twice daily with water before a meal.
We find that the 5000mg daily serving of Moringa Oleifera is much too high, with 1200mg per day being more than enough to offer excellent health benefits.
The Cost
One bottle containing 60 capsules can be bought for $19.95 online. There are currently not offering any discounts or promotions at the time of this review.
Guarantee
If you are not completely satisfied with the results obtained from this product, you can return the unused portion within 30 days of purchase for a full refund. You would need the original packaging (including the outer box with an UPC code), a dated receipt as well as an explanation of dissatisfaction in order for the offer to be valid.
Our Review Summary Of BioNutrition Moringa Superfood
After reviewing this product, we found that it can improve heart health, immune function, mental alertness and digestion. It can further also contribute to overall health, assist with weight loss and increase energy.
We found it quite impressive that this product is free of yeast, corn, salt, sugar, soy, wheat, preservatives and artificial ingredients.
The manufacturer does offer a 30-day money-back guarantee if you are not completely happy with your purchase. The unused portion can be returned within 30 days of purchase. In order for this offer to be valid, you would need a dated receipt, the original packaging and an explanation of why you are dissatisfied. There are other Moringa formulas on the market with money-back guarantees which are valid for much longer than 30 days without you having to write any sort of explanation. You can refund the product if you are not satisfied - no questions asked.
Although Moringa Oleifera is the only active ingredient found in this formula - which is rich in iron, potassium and Vitamins A, B and C, we did find that it isn't necessary to include inactive ingredients such as Vegetable Stearate and Silica, as these ingredients compromise the effectiveness and overall health benefits of the formula.
We also found that the 5000mg daily serving of Moringa Oleifera is quite high, as only 1200mg is needed for optimal benefits.
Well researched reviews, from the experts at Research & You.