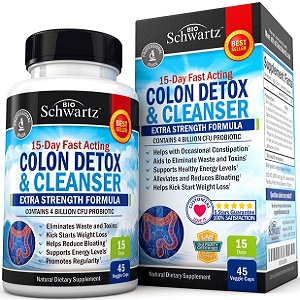 Bioresearch Schwartz 15-Day Fast Acting Colon Detox And Cleaner - Does It Work?-Review
This 15-Day fast acting colon and cleaner review will examine this detox product. The makers of this supplement claims that you will have a flatter stomach, fresher breath and removal of waste from the colon. This as they claim it will start weight loss, it will reduce bloating, promote regularity, increase energy levels, and better absorption of nutrients.
Ingredients
One capsule contains:
Senna leaves – Its use as a constipation treatment but also as a weight loss aid.
Flaxseeds – This is high in fiber and is used to cleanse the colon and burn body fat. Cascara sagrada bark – This is a natural laxative.
Rhubarb roots – These roots promote detoxification but can also help with the treatment of diarrhea.
Aloe leaves – Packed with vitamins and antioxidants, these leaves are anti-inflammatory, soothing, and have antibacterial properties.
Ginger root – Ginger helps with circulation, digestion and sweating. Thereby cleaning the colon, liver and other organs.
Glucomannan root – This lowers blood sugar levels and as it's a soluble fiber it attracts water that is needed for digestion.
Buckthorn bark – This is used for constipation. Black walnut hulls – It's an organism cleaner since it inhibits some enzymes that are needed for metabolic function.
Slippery elm bark – With its demulcent properties, it offers treatment for inflammation, and treating indigestion.  
Lactobacillus acidophilus – This probiotic breaks down lactose and helps with the production of vitamin K2. Bifidobacterium – This probiotic supports the immune system and helps with digestive problems.
The total serving of the proprietary blend is less than other comparable supplements on the market.
Other ingredients: Vegetable capsules. Thus making it suitable for vegans and vegetarians. More so, it's free from milk, egg, fish, shellfish, nuts, soy and chromium.
Dosage
The manufacturer recommends a dosage of 1 capsule daily for 15 weeks and drink at least 8 glasses of water. The program should be done every 8 weeks.
Possible Side Effects
The manufacturer does declare that this product has no side effects; however, they do warn that the supplement might lead to diuretic and laxative effects. This as it contains cascara sagrada.
Price
One bottle, 45 capsules, is available on the manufacturer's e-commerce site for $16.95. No further discounts are available. Free shipping only available on a purchase exceeding $35.00. You can only buy this supplement in America. No international shipping allowed. However, there is one problem, if you will be using it for 15 weeks, one bottle that contains 60 capsules will not be enough, as you will need another 45 capsules.
Guarantee & Feedback
The manufacturer offers a full money back guarantee. This policy is valid for 30 days from purchase and applies to the first bottle by customer, by product, by credit card only. Just the proof of purchase needs to be send to claim a refund. Our research also under covered that the customer reviews are problematic as they are of low quality and mostly unreliable. A mere 7.6% of reviews are reliable. Most are with a suspiciously positive sentiment and might involve deception.
Our Conclusive Review About 15-Day Fast Acting Colon Detox And Cleaner
15-Day Fast Acting Colon Detox And Cleaner seems like a useful detox and colon cleanser. It is backed with a 100% money back guarantee, and has limited side effects. That said, the guarantee is only valid for 30 days. For the treatment to be effectively tested you need to use it for 15 weeks, and not just 4 weeks. More so, the company covers the refund of one item per person per credit card, which means if you brought another product from the same company and now this item, and you returned the other product you will not receive any refund for this detox supplement. Furthermore, the reviews on this product is untrustworthy.
Well researched reviews, from the experts at Research & You.