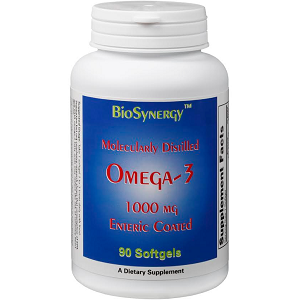 BioSynergy Molecularly Distilled Omega-3 - Does It Work?-Review
What is BioSynergy Molecularly Distilled Omega-3 1000 mg Enteric Coated?
Read our review below about Molecularly Distilled Omega-3 1000 mg Enteric Coated. The makers of this dietary supplement claim that this health product can assist to lessen the risk of coronary heart disease. Furthermore, the company claims that this product can assist with preservation of memory, as well as to improve brain volume, maintain a good mood, help maintain a healthy glucose level and blood pressure. Plus, it is claimed that this product can support a healthy inflammation response.
Ingredients & How It Works
Natural Fish Oil Concentrate (1000 mg)
Omega-3 fatty acids (750 mg)
Eicosapentaenoic acid (EPA) (180 mg)
Docosahexaenoic acid (DHA) (120 mg)
Other inactive ingredients include: gelatin, glycerin, and water.
Omega-3 fatty acid is recognized for its health benefits that include supporting healthy brain, heart, and skin. Nonetheless, additional benefits consist of preserving a healthy glucose levels and blood flow, in addition to acting as an anti-inflammatory agent. These dietary health capsules are also free from sugar, starch, salt, yeast, wheat, gluten, egg, corn, milk, shellfish, over and above preservatives. Though, the capsules do have gelatin, making them inappropriate for vegetarians or even pescatarians.
Daily Serving
The manufacturer recommends that one (1) to four (4) capsules be taken each day, with food. Though the maker of this Omega-3 supplement has advocated that these capsules may be taken with a collection of their own merchandises, no reference is made of a potential overdose on such a cocktail of dietary supplements. The effectiveness of this dietary supplement is questioned, should it have to be combined with other additional product. However that said, the amounts of 120 mg of docosahexaenoic acid and 180 mg of eicosapentaenoic acid are inadequate; the typical range should be 800 mg and 600 mg, in that order.
The Cost
A bottle of this product, holding 90 capsules, is obtainable on the maker's own website at $16.47.This purchase price is discounted from the normal price of $26.98.
Guarantee
The company that make this dietary supplement does offer a 30-day money-back guarantee for any person unhappy with this merchandise. The unused share of the product may be returned, without providing a reason for returning the product. Although giving a reason is of assistance to the maker, in that consumers are all latent research study contributors providing key information that may then be utilized to enhance the formula and diminish any side effects or short falls of this dietary supplement.
Our Review Summary Of Molecularly Distilled Omega-3 1000 mg Enteric Coated
Molecularly Distilled Omega-3 1000 mg Enteric Coated is mass-produced in a GMP certified factory, which is one of the good aspects of this Omega-3 fatty acid supplement. To add to that, this dietary supplement is supported by a money-back pledge from the maker of this product. As part of this guarantee, a purchaser can utilize it for a period (note it should be sent back within 30-days). If unsatisfied with the product, a shopper may return it for a reimbursement. This previous worthy aspect is also one of its shortcomings, 30 days being not enough time for comprehensively testing the merchandise. An additional issue about this dietary supplement is that the amounts of 120 mg of docosahexaenoic acid 180 mg of eicosapentaenoic acid are well below the average for ideal results. To finish, these health capsules are not presented in a vegetarian capsule, instead, in a gelatin capsule.
Well researched reviews, from the experts at Research & You.