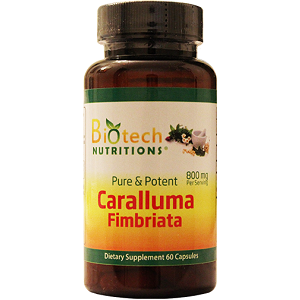 Biotech Nutritions Caralluma Fimbriata - Does It Work?-Review
What Is Biotech Nutritions Caralluma Fimbriata?
The following informative review is for a product called Biotech Nutritions Caralluma Fimbriata. This product claims that it is a dietary supplement that will enable you to manage a healthy weight and also be able to suppress your appetite and therefore, possibly also assist with weight loss.
Ingredients & How It Works
Caralluma Fimbriata Extract - 800 mg
Caralluma Fimbriata extract is thought to help aid weight loss as it contains chemicals that may be able to burn fat and also work as an appetite suppressant which may be able to ward off unhealthy eating habits such as cravings and emotional eating. Unfortunately, this ingredient does have some unfortunate side effects such as stomach upset, stomach pain, intestinal gas, and constipation that are supposed to dissipate after roughly a week of use.
Daily Serving
The manufacturer suggests that you should use this dietary supplement by taking two capsules half an hour before breakfast and an additional two capsules before you have lunch each day. There are no alternative dosage instructions provided which might be able to increase the results that this product has to offer The manufacturer has failed to provide sufficient warnings and cautions for the use of this product such as safety for children and use during pregnancy and nursing which is both unusual and disappointing as they have also failed to caution the research confirmed side effects that the ingredient used may have.
The Cost
This product is available to be purchased online and directly through the manufacturer's website for a cost of $15.99 for a bottle of 60 capsules which, if used as directed  by the manufacturer, could be half a months supply. There are no discounted options available for the purchase of this product.
Guarantee
The manufacturer has failed to provide any kind of money back guarantee for this supplement which is greatly concerning especially because there are also no customer reviews available wand both these aspects create much doubt regarding the general effective results that this product may offer as well as what kind of quality standards the manufacturer uses when making it.
Our Review Summary Of Biotech Nutritions Caralluma Fimbriata
This product does use a good ingredient and it also seems to be fairly priced which could suggest that it might be a relatively ok product although, it has no manufacturer's money back guarantee which is very concerning and suggests that they have no confidence in this product and there are also no customer reviews which suggests that this product may not be effective. The manufacturer has also failed to provide adequate information regarding the safety of this product as well as forgetting to inform potential customers of the possible side effects. In general this weight management supplement does not have any superior characteristics as a product nor does it seem to be a good choice at all and therefore, we recommend that you should rather opt for a product that is proven effective and one that is more suitable.
Well researched reviews, from the experts at Research & You.