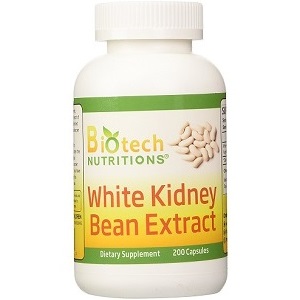 Biotech Nutritions White Kidney Bean Extract - Does It Work?-Review
What is Biotech Nutritions White Kidney Bean Extract?
Read our review below for Biotech Nutritions White Kidney Bean Extract. It is a dietary supplement that is intended to help those who want to lose weight.The ingredient contained in this supplement works by blocking starch digestion, reducing the conversion of starch into fat. It also increases the feeling of fullness, which suppresses appetite.
Ingredients & How It Works
This product contains 1000mg of White Kidney Bean Extract. White Kidney Beans work by blocking starch, through inhibiting amylase. Amylase is an enzyme that is responsible for digesting starch, and turns it into sugar that the body absorbs. For this reason, white kidney beans are known to be one of the best natural weight loss supplements.
The inactive ingredient in this supplement is vegetable capsule.
Daily Serving
The recommended dose is two capsules daily before each of your two largest meals for the day, or as recommended by a healthcare provider. You should not take more than four capsules a day.
Do not take this supplement if you are pregnant, nursing, under the age of 18 or if you have a cardiovascular disease or diabetes. Note that this product is manufactured in a facility that processes milk, soy, nuts, eggs and wheat.
Cost
A bottle containing 200 capsules costs $19.99 when purchased from the manufacturer's website. Furthermore, you get three bottles for free if you purchase five bottles of this supplement. This is a reasonable price, considering that the dosage is 4 capsules a day. This means that a bottle of 200 can last you 50 days.
Guarantee
The manufacturer does not offer any money-back guarantee. This means that you would lose all your money if you are not satisfied with this product. It is clearly stated on their website that they only accept returns of unopened items, and that should be done within 30 days from the invoice date. This is disappointing considering that their product is one of the cheapest on the market. The lack of the manufacturer's guarantee indicates the manufacturer's lack of confidence on their product.
Our Review Summary of Biotech Nutritions White Kidney Bean Extract
Biotech Nutritions White Kidney Bean Extract seems to be a promising product. It contains white kidney bean extract, which is among the best natural ingredients used for weight loss. The price that the manufacturer is selling the product is very cheap, which makes it easily affordable for everyone. However we are concerned that the product is only available from the manufacturer's website, because that means that if the manufacturer's website experiences some technical glitches, you will be forced to wait until it can work again. You would also go through the same thing if for some reason they had to stop operating for a while. This is risky and not ideal if you are serious about wanting to lose weight.
Furthermore, this supplement excludes many kinds of individuals from taking it, such as the diabetic, those suffering from cardiovascular disease, those under the age of 18, those who are pregnant or nursing, people who are allergic to nuts, eggs, soy, milk and wheat. This makes us wonder how safe it is for other kinds of individuals. We would not recommend this product for weight loss due to the above mentioned reason, and also considering that there are no consumer reviews and money-back guarantee. The lack of reviews on the product could mean that it is not known and has not been used by many, while the lack of guarantee indicates the lack of confidence by the manufacturer on their product. If you want a safe, effective and reliable product, look for one with the guarantee, reviews and less or no side effects. Biotech Nutritions White Kidney Bean Extract is not the one for you.
Well researched reviews, from the experts at Research & You.