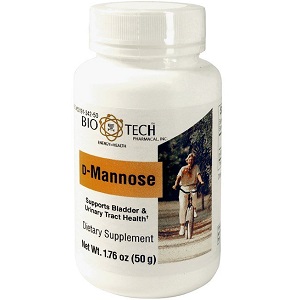 Biotech Pharmacal D-Mannose - Does It Work?-Review
What is Biotech Pharmacal D-Mannose?
This D-Mannose review examines this product in more detail: It is claimed by the manufacturer Biotech Pharmacal, that this product can support a healthy bladder and urinary tract. In addition, it is claimed that this product, as it contains mannose, will not interfere with blood-sugar regulation.
Ingredients & How It Works
Half a teaspoon provides:
Mannose (a simple sugar found in fruits like pineapples and cranberries), does not metabolize easily, therefore it is normally flushed out of the body. As such, it helps to maintain a healthy urinary tract and bladder by removing unhealthy bacteria. However, this formula does not contain the clinically proven ingredients such as cranberry or lingonberry: no other ingredients are added to this formula. Nonetheless, the formula is free from gluten, wheat, soy, yeast, dairy, egg, fish, shellfish, nuts, sweeteners, colors, flavors or preservatives.
Daily Serving
The manufacturer of this supplement recommends that adults take half to a full teaspoon of the product with six ounces of water, three to four times daily. Thereafter, to maintain healthy urinary tract and bladder, the same amount of this product should be used; however, it needs to be taken only once per day. The manufacturer also states that children should take a quarter to half a teaspoon of this product. However, no details are given on how many times a day this dosage should be taken.
The Cost
A 50-gram bottle of this health product is available online at $31.98. The company does not offer any package deals with discounts.
Guarantee
The manufacturer offers a 30-day money-back guarantee on this product. However, based on the terms and conditions of the company's return policy, opened bottles will not be eligible for a refund. The returned product should be in a condition such that it may be resold. Consumers must first complete a return merchandise authorization form. They will then obtain a number from the customer service department before returning any items. The company will deduct a 20% restocking fee on any returned item sent back within 30 days; and a 40% handling and return charge if the item is returned after 30 days.
Our Review Summary Of D-Mannose
There are some good aspects to this health supplement product. The company backs this health product with a 30-day money-back guarantee. Another positive is that, for adults, the dosage instructions are clear and succinct. On the downside, however, there are certain concerns. Firstly, the guarantee comes with a heavy handling deduction fee from 20 to 40 per cent. The company does not accept opened bottles for refunds. The issue is that the consumer therefore has to risk buying this product whether effective or not: money may be wasted. Secondly, the formula only contains D-mannose, and lacks ingredients that were found in clinical studies to be effective. Thirdly, the company does not offer package deals, nor any discounts on this product that could have made this supplement more economical in the long run.
Well researched reviews, from the experts at Research & You.