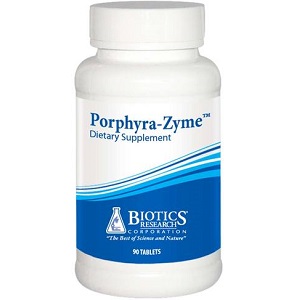 Biotics Research Porphyra-Zyme - Does It Work?-Review
What is Biotics Research Porphyra-Zyme?
Today we are reviewing Biotics Research Porphyra-Zyme, which is a supplement made of Vitamin C and a proprietary blend of fruits and vegetables that is designed to help alleviate the effects of being exposed to toxic heavy metals from vaccinations, dental fillings, eating seafood, hair dyes etc.  Although we can tolerate certain amounts of these metals, overexposure can overwhelm our bodies causing us to feel bloated, constipated, tired, have body odor and bad breath, and difficulty around memory and concentration. None of this is ideal under any circumstances.
Ingredients & How It Works
Main Ingredients:
Vitamin C (as ascorbic acid) - 120 mg

Proprietary Blend - 210 mg

Spinach (Spinacea Oleracea)(leaf & stem)

Mulberry (Morus Alba)(leaf)(extract)

Organic Beet Concentrate (Beta vulgaris)(leaf)

Vegetable Culture Concentrate (from non-soy legumes)


Other ingredients: Stearic acid (vegetable source), Magnesium Stearate (vegetable source), Modified Cellulose Gum, and Food Glaze.
The product is gluten and dairy free.  Vitamin C as an ascorbic acid is a strong antioxidant that reduces the toxicity of the metals in your body. The proprietary blend is designed to help flush your system by binding itself to the toxic metals.
Daily Serving
Instructions state to take 1-3 tablets each day or as instructed by your doctor.  If you are pregnant or nursing you should consult with your doctor before taking this supplement.
The Cost
Purchase of this product on Biotics Research is $44.90 for 270 capsules and $16.90 for 90 capsules.  Third-party sites sell it for less money; we were able to find 270 capsules for $33.14.
Guarantee
We were disappointed to see that the manufacturer only offers a 30-day return policy on unopened items.  Additionally, they charge a 15% restocking fee which seems absolutely unnecessary.   This means that if you try the product and experience adverse side effects or have an adverse reaction, you cannot return it. There are no consumer reviews available on this product, which suggests that it is unpopular and not a well-known option.
Our Review Summary of Biotics Research Porphyra-Zyme
This product is certainly affordable and has natural ingredients, but we are not convinced at all there is an overall effect of using it.  What should be noted is that there are no competitive products on the market that are produced toward the same goal of this particular supplement with corresponding ingredients.  For example, a supplement that primarily addresses constipation would contain L. Acidophilus, a beneficial bacteria found in the intestinal tract and aids digestion and restores the natural balance of beneficial intestinal bacteria preventing constipation. Or a product targeting bad breath would contain green tea and chlorophyll.  However, there are no reviews whatsoever which point to the widespread use of the supplement to either rid the body of toxins or to fight constipation and malodors.  Reviews that were available were not positive and since there is no information provided about the specific amounts of content for each of the items in the proprietary blend, we do not end up knowing about the product ingredients and their effectiveness.  You are probably better off purchasing a supplement that has positive consumer reviews and an upstanding manufacturer's guarantee.Taking these factors into consideration, combined with the weak manufacturer's guarantee, there appears to be no good reason why to purchase the product.
Well researched reviews, from the experts at Research & You.