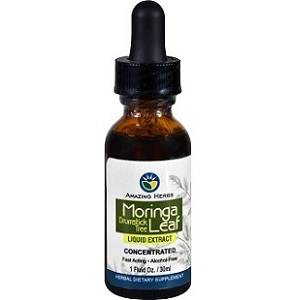 Black Seed Moringa Leaf Liquid Extract - Does It Work?-Review
What is Black Seed Moringa Leaf Liquid Extract?
This is a review of the product Moringa Leaf Liquid Extract, by Black Seed. Moringa has been used for thousands of years: it is seen as a super food, packed with nutrients and antioxidants. Currently, there are various Moringa supplements on the market, promising many health benefits. As for this Black Seed herbal dietary supplement, it is produced from 100% concentrated Moringa Oleifera leaves; and claims to offer various health benefits. The supplement contains 46 types of antioxidants and 90 nutrients.
Ingredients & How It Works
The active ingredient is 100% Moringa Oleifera leaves. This plant is believed to offer many health benefits, ranging from relieving arthritis, anaemia, constipation, diarrheoa, high blood pressure, thyroid problems, to being able to increase the production of breast milk in breastfeeding mothers.
Inactive ingredients include water and vegetable glycerin.
The manufacturer does, however, not state how much of the product is found in each bottle. Water has been added. The Moringa ingredient is already an extract: it has been diluted, but to what concentration is unclear.
Daily Serving
The bottle should be shaken well before use. The daily serving is half a teaspoon (1.23ml) 1 to 3 times a day, or as needed.
The Cost
Moringa Leaf Liquid Extract cannot be bought directly from the manufacturer, only through selected third-party sites. Prices differ between sites; however, one price online is $12.07 for a 1-ounce bottle, with a further savings of $0.24 per bottle if 3 bottles are purchased at one time.
Guarantee
This aspect was of some concern in that we could not find any information on a money-back guarantee for this product. The lack of a manufacturer's guarantee increases the customer's risk. After making a purchase, if the customer is not satisfied with it (perhaps it does not live up to its boast) the buyer will not be able to obtain a refund.
Our Review Summary Of Moringa Leaf Liquid Extract
The supplement, Moringa Leaf Liquid Extract, by Black Seed, seems to be a promising dietary supplement, based on the potential benefits of Moringa and its high concentration of nutrients and antioxidants. In addition, and particularly since the dosage is 1 to 3 teaspoons daily, the bottle is small, making it light and portable. However, there is a concern about the lack of manufacturer's guarantee.  Another issue is the lack of details on concentration of ingredients: what proportion of the mixture is water? It may be advisable to opt for another Moringa supplement backed by a good guarantee, on which all the information about the product is clearly presented.
Well researched reviews, from the experts at Research & You.