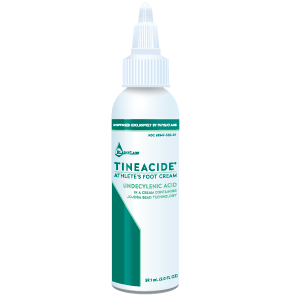 Blaine Labs Tineacide Athlete's Foot Cream - Does It Work?-Review
What is Blaine Labs Tineacide Athlete's Foot Cream?
As the name suggests, this product is a cream that is said to provide relief from athlete's foot. The manufacturer claims that the effects are rapid and that it eliminates the fungal infection at the source. As with most products, it's always best to look at the facts before purchasing the product. In this review of Tineacide Athlete's Foot Cream, our aim is to provide you with all the information you need to know.
Ingredients & How It Works
These are the ingredients we were able to source since the manufacturer has failed to list them on the official website.
Undecylenic Acid (25%)
Water
Urea
Coco-Caprylate/Caprate
Stearic Acid
Glyceryl Stearate
PEG 100 Stearate
Polysorbate 60
Triethanolamine
Clotrimazole
Tea Tree Oil
Lavandula Angustifolia Oil
Cetearyl Alcohol
Hydroxyethylcellulose
Aloe Vera (Aloe Barbadensis)
Disodium EDTA
Methylparaben
Propylparaben
Undecylenic Acid is an antifungal which helps to prevent the growth and spread of fungi. It also helps to relieve symptoms such as itching, redness, irritation, and inflammation.   We are concerned to see that this product contains Triethanolamine which is a byproduct of ethylene oxide and ammonia. While it is regulated in small doses it may cause adverse side effects such as skin and irritation which may worsen your symptoms and infection.
Daily Serving
This is an ointment which should be applied topically using a cotton swab. The infected area should always be cleaned first. The manufacturer has very limited information on the dosage and ingredients, therefore, we had to gather the research elsewhere and it may differ from what the product's packaging states.
The Cost
In Order to view pricing on the manufacturer's website, users are forced to log in first which seems to be very inconvenient. The price ranges from $15.00 upwards online depending on where you purchase this product from. There are no bulk purchase discounts available for this product.
Guarantee
While doing our research we were unable to find any mention of a satisfaction guarantee. Based on this we feel that the manufacturer has not provided consumers with confidence in the effectiveness of this product.
Our Review Summary Of Blaine Labs Tineacide Athlete's Foot Cream
We like that this product contains Undecylenic Acid and that the formula comes in a convenient container that won't contaminate the product however we are concerned that the Triethanolamine may cause symptoms to worsen. We were unable to find much feedback from end users about this product which leads us to believe that it is not very popular. We also feel that the manufacturer has failed to mention important information such as the dose and ingredients. The fact that consumers need to login to view prices is very inconvenient and we feel that it is just a marketing trick to gather consumer email information for email marketing purposes. Based on the facts and the lack of guarantee we feel that this product is not as effective as most other leading brands. 
Well researched reviews, from the experts at Research & You.