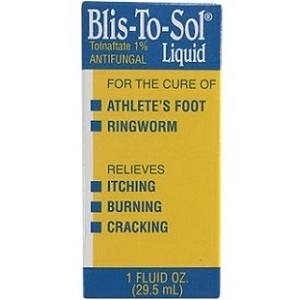 Blis-To-Sol Anti-Fungal Liquid - Does It Work?-Review
What Is Blis-To-Sol Anti-Fungal Liquid?
This is a review for a product called Anti-Fungal Liquid from Blis-To-Sol. Ringworm is an uncomfortable affliction that manifests itself on the skin. It is caused by a fungal infection that also causes athletes foot or jock itch. According to the manufacturer, their product will help to reduce the appearance of this infection on the skin. This product will help to relieve the itching and burning sensations that are often associated with this condition. Additionally, it may help reduce cracked skin and prevent any further damage. Finally, the manufacturer claims that continued use of this product will help to prevent future infection.
Ingredients & How It Works
Tolnaftate (1%)
D&C Red #22
PEG-8
Thumol (167-253)
At first, we found that this could be an effective formula to help you get rid of a fungal infection. However, we were slightly concerned that this product only contains one type of anti-fungal ingredient. Additionally, we were rather concerned about the additional ingredients included in this formula. These ingredients act as additives, preservatives, fillers, and binders. We are concerned that these ingredients may make this product unsuitable for individuals who suffer from allergies.
Daily Serving
Before using this product, you should wash the area thoroughly with soap and dry it completely. You should then apply a thin layer of this product to the affected area in the morning and in the evening. Alternatively, you should use this product as instructed by your doctor. If you notice any adverse reactions, you should stop using this product immediately.
The Cost
This product is available directly from the manufacturer on their online store. One bottle of this product is available for $9.42 for a bottle that contains 1.8 fluid ounces. Unfortunately, we were not able to find any information regarding discounts or special offers available for this product. Additionally, the manufacturer of this product does not offer free shipping.
Guarantee
Sadly, we could not find any information on guarantees or returns policies for this product. This indicates that the manufacturer is not entirely confident with their product. Companies who offer guarantees are sure that their products serve their intended use and are thus not afraid to offer guarantees for people who are not entirely satisfied with the product they receive.
Our Review Summary Of Blis-To-Sol Anti-Fungal Liquid
When we completed our review of this product, we found it could be effective for alleviating the symptoms of fungal infections while also protecting the skin from future infections. This product is available directly from the manufacturer for a very reasonable price. Additionally, we believe that the manufacturer provides excellent instructions that will help the customers to use this product safely. However, we are not sure if we would recommend this product to anyone due to a few critical issues. Our research seems to indicate that anti-fungal formulas are only effective if it contains more than one fungicidal ingredient. Additionally, we were shocked to find that there are no guarantees available for this product and we were unable to find any consumer reviews.
Well researched reviews, from the experts at Research & You.