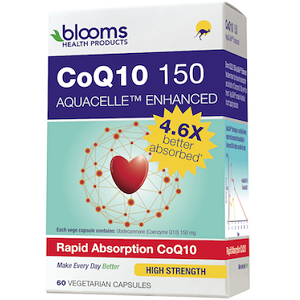 Blooms CoQ10 Aquacelle Enhanced - Does It Work?-Review
What is Blooms CoQ10  Aquacelle Enhanced?
In this review of Blooms CoQ10  Aquacelle Enhanced we investigate the effectiveness of this product and determine whether it is a good option when looking for a quality Coenzyme Q10 supplement. CoQ10 is a supplement used for its health benefits that include immune system support and reducing oxidative stress thanks to its powerful antioxidant activity. Blooms CoQ10 claims to have a formula that increases absorption and utilization by nearly 5 times compared to other CoQ10 products.
Ingredients & How It Works
The manufacturer says that their formula of this product contains only 150mg of ubidecarenone (Coenzyme Q10) in a vegetarian capsule. The manufacturer claims that the product contains no added artificial colors, flavors or preservatives, and no added gluten, yeast, milk derivatives, animal products, salt, lactose. The manufacturer also claims the product has an enhanced feature called AquaCelle which is supposed to increase absorption into the body by nearly 5 times.
Daily Serving
The recommended dose of this supplements is 1 capsule containing 150mg of CoQ10 per day.
The Cost
Blooms CoQ10  Aquacelle Enhanced product is not available for direct purchase off the manufacturer's website, however, the manufacturer lists a variety of different retailers that the supplement can be purchased from. The recommended retail price for this product is $49.00 however, most retailers list it for around $25 - $30 after their discounts. This price does not include shipping as each online retailer has different shipping terms.
The Guarantee
As this product is only available from 3rd party retailers and not directly from the manufacturer's website, the guarantees policy varies between the retailers. Most of the retailers seem to require the product to be returned within 7 days and to be unused and unopened. This would mean that no guarantee is given on the product once it has been used and opened, only packages that remain closed can be returned. It is best to consult each retailer directly to understand their guarantee and returns policy.
Our Review Summary O fBlooms CoQ10  Aquacelle Enhanced
The manufacturer claims that their variant of the CoQ10 supplement is made using the highest quality Coenzyme Q10 containing AquaCelle which is said to help increase the absorption of CoQ10 in the body by 4.6 times compared to other similar products. The Price of this supplement is also reasonable compared to other CoQ10 supplements on the market. There are a few concerns about this product with regards to its effectiveness due to its lower dosage in comparison to other more trusted brands available. This product contains only 150mg of CoQ10 per day whereas some of the other leading product recommend 250mg of Coenzyme Q10 per day. Another concern is with the guarantee of this product which is unclear from the manufacturer's side as you can only purchase the product from 3rd party retailers whose returns policy varies. No clear information from the manufacturer about the guarantee raises some red flags about the product's effectiveness.
Well researched reviews, from the experts at Research & You.