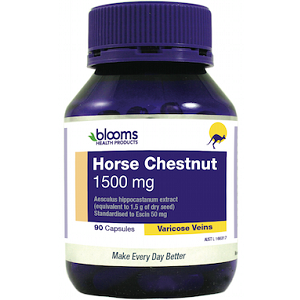 Blooms Health Products Horse Chestnut - Does It Work?-Review
What is Blooms Health Products Horse Chestnut?
The below is an informative product review for Blooms Health Products Horse Chestnut 1500 mg that will bring you all the real facts. The manufacturer of this product claims that it will encourage healthy circulation, improve blood vessel function and treat varicose veins and spider veins and additionally claims that it will also provide relief for symptoms caused by poor circulation such as swelling, leg pain, cramping, muscle spasms, and itching.
Ingredients & How It Works
Aesculus Hippocastanum (Horse Chestnut) Extract - 1500 mg
Horse Chestnut Extract can be used to help treat varicose veins, hemorrhoids and swollen veins and it works by causing blood to thin and preventing water retention. Research advises that this ingredient can cause a few unfortunate side effects such as dizziness, headaches, stomach upset and itching.
Daily Serving
The manufacturer recommends that adults should take two capsules per day and cautions that you should avoid using blood thinning medications and aspirin with this product. Further cautions provided advise that overdose may cause adverse reactions which include enlarged pupils, drowsiness and flushed skin which is worrying when taking into account that research suggests the safe dosage for the key ingredient used is 600 mg per day and therefore, we recommend that you should consult a healthcare practitioner before using this product especially because it uses a significantly high dosage which may not be safe.
The Cost
This product can be purchased online through various online retailers and the manufacturer provides a number of various third-party retailers to choose from on their website. One bottle of Blooms Health Products Horse Chestnut 1500 mg contains 90 capsules will cost you roughly $20.95 and it should last one and a half months when used according to the manufacturer's recommended dosage. There does not seem to be any discounted options offered which is somewhat disappointing.
Guarantee
The manufacturer does not provide any kind of money back guarantee for this product which, unfortunately, displays that there may be a lack of confidence and this is extremely concerning.
Our Review Summary Of Blooms Health Products Horse Chestnut
Considering that this product does use a good key ingredient which may be beneficial for circulation health and that it is also fairly priced suggests that it could be a relatively ok product. However, it is extremely concerning that Blooms Health Products Horse Chestnut 1500 mg far exceeds the safe recommended dosage according to research and it can also cause various unpleasant side effects. This product has no manufacturer's guarantee to back its claimed effective results and there also seems to be no customer reviews available online indicating that it is generally not a popular choice. There are other similar products available from leading brands that we recommend you should rather consider.
Well researched reviews, from the experts at Research & You.