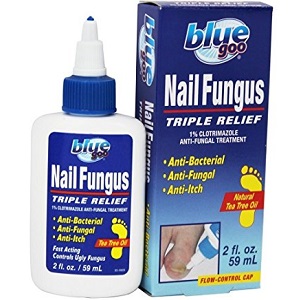 Blue Goo Nail Fungus Triple Relief - Does It Work?-Review
What Is Blue Goo Nail Fungus Triple Relief?
Blue Goo Nail Fungus is an over-the-counter medication designed to treat various fungal infections. Its manufacturer recommends it for treating athlete's foot, jock itch and ringworm and claims it is designed to stop itching, absorb moisture and control odors to provide maximum relief. It is also claimed to help prevent ugly nail syndrome. This reviews provides all the necessary information for customers to decide if it is the product for them.
Ingredients & How It Works
Blue Goo Nail Fungus contains one active ingredient: clotrimazole at a concentration of 1%. Clotrimazole is commonly used to treat yeast infections in the skin, such as athlete's foot, jock itch and ringworm. The way it works is by interfering with fungus cell membranes causing the fungus to die and helps prevent future fungus growth.
Blue Goo Nail Fungus has a long list of inactive ingredients, listed here for allergen purposes:
Alcohol denat
Water
Acrylates/C10-30 alkyl acrylate Crosspolymer
Talc
Tapioca starch
Isodecyl neopentanoate
Octyldodecyl stearate
Acrylates
Acrylamide copolymer
Polysorbate 85
Fragrance
Lauroyl lysine
Cyclomethicone
Dimethicone
Polyisobutene
Tea tree (melaleuca alternifolia) oil
BHT
Propylene glycol
Methyl paraben
Propyl paraben
Phenoxyethanol
Isopropylparaben
Isobutylparaben
Butylparaben
D&C red #33
Daily Serving
Shake Blue Goo Nail Fungus before using. Clean and dry the infected area and then apply a thin layer and let it dry. Apply twice a day, unless otherwise directed by a doctor.
Do not use this product on children under 2. Avoiding getting get product in eyes or using it on the scalp. Do not swallow. Stop using if infection does not clear up or gets worse. Use for 4 weeks if treating athlete's foot or ringworm. Use for 2 weeks if treating jock itch.
The Cost
The manufacturer offers different purchase options. Customers can purchase one 2 oz bottle for $4.24, three 2 oz bottles for $4.20 each, six or more 2 oz bottles for $4.16 each, or twelve or more 2 oz bottles for $4.07 each.
Blue Goo Nail Fungus can also be purchased from other pharmacies and websites. However, other sites will most likely be more expensive. For example, Amazon offers a 2 fl oz. bottle for $9.98, plus shipping.
Guarantee
The manufacturer offers a strong 90-day, "happiness" guarantee. Unsatisfied customers can return their products within 90 days to receive a full refund, minus shipping fees. Both used and unused products qualify for refunds.
At the time of our review, over 60 Amazon customers had posted feedback on this product. A notably high percentage (for this category of products), 41%, rated it negatively.
Our Review Summary Of Blue Goo Nail Fungus
Blue Goo Nail Fungus seems to be an alright treatment for fungal infections. It is certainly among the most affordable nail fungus products available and its active ingredient seems to work well. We also like the customer friendly manufacturer guarantee which allows customers to test its effectiveness for up to 90 days. However, Blue Goo Nail Fungus might need to be taken longer than instructed. Customer ratings indicate that it only works for a "hit-and-miss" percentage of people. While many like it, claiming it works better than other fungal treatments others claim it is messy and unsightly. If you can afford a product with much higher customer ratings, we would suggest going in that direction.
Well researched reviews, from the experts at Research & You.