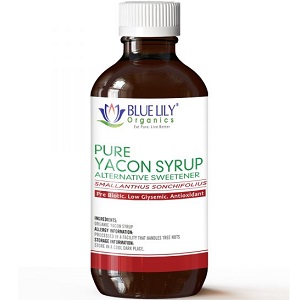 Blue Lily Organics Pure Yacon Syrup - Does It Work?-Review
What is Blue Lily Organics Pure Yacon Syrup?
This review is going to take a closer look at Blue Lily Organics Pure Yacon Syrup to learn more about it and to see if it is worthwhile. This syrup is derived from Yacon Root and is designed to replace your high-calorie sweeteners. Yacon Root is one of the best dietary sources of FOS which is the key component in Yacon Syrup that offers a multitude of health benefits. The manufacturer claims that this syrup is an excellent source of prebiotics, is rich in antioxidants, can be used effectively as an alternative sweetener and is vegan and organic.
Ingredients & How It Works
The only ingredient in this product is organic Yacon syrup. This syrup is extracted from Yacon Root that is found in Peru and is native to South America. The plant looks like a sweet potato and has the taste of a pear. It contains 50% fructooligosaccharides (FOS) which is the key component that offers weight loss benefits. It is what gives Yacon Root syrup its sweet taste but it passes through the digestive system undetected which means that your body retains very few calories from it.
Daily Serving
The manufacturer recommends substituting your usual, high-calorie sweetener with Yacon Syrup in anything you would normally sweeten like sugar, molasses or honey. Yacon Syrup can also be used in cooking and baking.
It is believed to be safe for pregnant and nursing women but we always recommend that if you are pregnant, nursing or under medical supervision to speak with your doctor before taking any sort of weight loss product.
The Cost
You can purchase this syrup directly from the manufacturer. One 8 oz bottle of Yacon Syrup is available on the manufacturer's website for $15.75. Blue Lily Organics does not offer any bulk purchasing packages or discounts.
Guarantee
The manufacturer offers a 30-day money back guarantee but they do not say if that includes both opened and unopened bottles. We strongly recommend contacting their customer service to find out about their up to date return policy before purchasing this syrup.
Our Review Summary Of Blue Lily Organics Pure Yacon Syrup
This syrup appears to be a decent alternative, low-calorie sweetener that also offers several health benefits. In addition to the sweetening benefits, it also contains properties that can help suppress your appetite and boost your metabolism to help you lose weight. Every person can have a different reaction to the taste of Yacon Syrup but a common complaint we saw coming from consumers who had purchased and tried this syrup is that it tastes like corn syrup and has a bitter aftertaste. One of the main benefits to replacing your usual sweeteners with Yacon Syrup is its low-calorie intake but we found that this syrup has a higher calorie content than most other Yacon Syrups we have seen on the market. This syrup is backed by a manufacturer's guarantee but their guarantee is one of the weakest we have seen. Thirty days is not necessarily enough time to be able to make a determination of whether or not this syrup works for you and the manufacturer does not say if you can return open bottles. You are better off purchasing a Yacon Syrup that offers Yacon's maximum benefits, one that has positive consumer feedback and one that has a strong manufacturer's guarantee for consumer protection.
Well researched reviews, from the experts at Research & You.