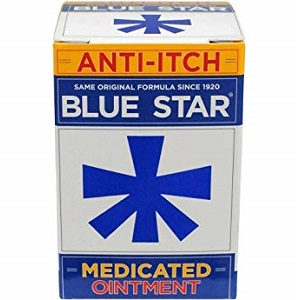 Blue Star Medicated Ointment - Does It Work?-Review
What is Blue Star Medicated Ointment?
Here we will examine a product called Blue Star Medicated Ointment. Ringworm, an infection of the skin, is caused by a fungus and can be passed on from one person to another. That is why the manufacturer designed a product to help provide relief from the itching, burning, and redness associated with this infection. Keep on reading to see what Blue Star Medicated Ointment can do for you and if it is an effective product.
Ingredients & How It Works
Blue Star Medicated Ointment contains one main active ingredient, namely Camphor 1.24%. This information was not available on the manufacturer's website. This topical analgesic provides anti-itching properties. The label on the product states that it will provide temporary relief of pain and itching. From the research we have done, it seems like the product does not contain clinically proven ingredients that have been tested for safety and effectiveness. One main ingredient the product is lacking is 25% undecylenic acid which is the most effective fungus fighting ingredient. The product also lacks other essential oils. Ultimately, the product does not seem to provide a dual-action formula for fungus prevention and soothing relief.
Daily Serving
The manufacturer recommends that users wash the affected area and dry it with a towel. The next step is to apply a layer of the product to the affected area. It is best to repeat the application 3 times a day. The manufacturer also suggests that the user wash their bed linens, clothing, and night clothing regularly for up to a week after the infection has disappeared. Customers are also reminded that any ringworm infection that lasts for longer than 4 weeks after treatment, should consult a doctor for medical attention.
The Cost
The product can be purchased from various online retail stores. A list of these stores are provided on the manufacturer's website. One 2 ounce jar will cost anything between $5.77 and $21.99. A 2 pack will cost about $29.99 and a 3 pack will cost about $44.99. The bundle packages are available on Amazon. It is great to know that the manufacturer provides bundle deals, however, the price per jar is very cheap and may indicate low-quality ingredients.
Guarantee
The manufacturer states that they offer a 100% money-back guarantee. This seems promising, however, the manufacturer fails to provide information concerning the condition the product must be in upon returning it. In addition to this, there is also no return period provided. Consequently, it seems that customers will run a financial risk when purchasing this product as the guarantee is not rock solid.
Our Review Summary Of Blue Star Medicated Ointment
We have completed our review of Blue Star Medicated Ointment and we found that the manufacturer takes great care for their customers in terms of the usage instructions. It is clearly set out when and how the product should be applied. Unfortunately, we have come across a few drawbacks as well. First of all, the product lacks the presence of clinically proven ingredients and other essential oils. This may result in a product that is not as effective as other brands. Furthermore, the price of the product is so low that it may indicate low-quality ingredients. Finally, the customer may be at risk when making a purchase as the manufacturer does not clearly state all aspects of the return policy that is needed. Due to these reasons, we do not recommend Blue Star Medicated Ointment.
Well researched reviews, from the experts at Research & You.