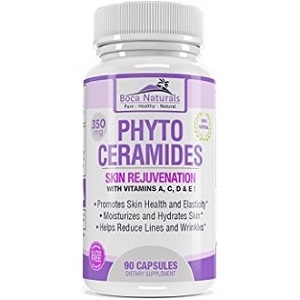 Boca Naturals Phytoceramides - Does It Work?-Review
What is Boca Naturals' Phytoceramides?
Read our review below about Phytoceramides: This product is manufactured by Boca Naturals. It is formulated to promote healthy skin and to ensure elasticity, while moisturizing and hydrating the skin. This product is claimed to assist in reducing lines and wrinkles.
Ingredients & How It Works
Vitamin A (5000 IU)
Vitamin C (60 mg)
Vitamin D (400 IU)
Vitamin E (30 IU)
Phytoceramides (350 mg)
Vitamin C helps in the production of collagen, which enhances firmness of the skin. Vitamin D helps to replace the old and dying skin with new cells. The antioxidant vitamin E helps to reduce skin inflammation by removing harmful chemicals from the skin. Vitamin A assists in protecting the skin from sun damage. The other ingredient, phytoceramides, hydrates the skin and boosts skin collagen, making the skin look more youthful and healthy. These capsules are free from fillers, gluten, binders, or artificial ingredients. However, these capsules contain a food additive − silicon dioxide − also known as silicon. In small doses this substance is not harmful; however, in large doses it could lead to kidney stones and fatigue, loss of appetite, as well as eye irritation. This supplement uses vegetarian capsules suitable for vegans and vegetarians. The product is manufactured in a cGMP facility, therefore ingredients used match those given on the label.
Daily Serving
One (1) capsule should be taken per day, with eight ounces of water. However, no mention is made of whether these capsules should be taken with food, or at what time of day it is best to take this supplement. The manufacturer states that the instructions of a health care provider may be followed as an alternative.
The Cost
Our research was unable to discover the purchase price. The product is currently unavailable on major third-party sites; nor could the websites visited indicate when more stock would be available. This could imply that this product is not very popular.
Guarantee
The manufacturer does offer a 100% money-back guarantee on this product. However, the company's pledge is unclear: it does not state how many days a consumer has in which to return the product, in what condition it should be returned, and deductions that will apply to this product.
Our Review Summary Of Phytoceramides
Phytoceramides offer certain benefits. There is a full money-back guarantee (even though the terms and conditions of this policy are unclear). The product contains 350 mg of phytoceramides; and vitamins A, C, D and E are added to the formula. It was shown in clinical studies that 350 mg of phytoceramides should be used for optimal results. This product lacks the ingredient wheat extract oil which enhances the effectiveness of the other elements. More problematic is that this product is not easily obtainable. It is unavailable on prominent third-party sites; and it is unclear when stock will be available. Therefore, with similar products on the market that are easily available, have better quality ingredients and clear policies: those might be better this supplement product.
Well researched reviews, from the experts at Research & You.