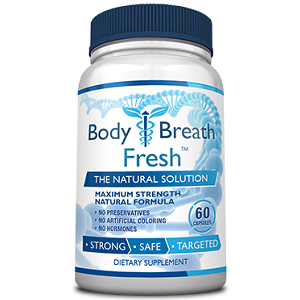 Body & Breath Fresh - Does It Work?-Review
What is Body & Breath Fresh?
Body & Breath Fresh takes a (pardon the expression) refreshing approach to the problem of body and breath odors with its all-natural formula which, it says, does more than just cover the problems with nicer smells, it attacks the root causes of the problems to help eliminate them. A nutritional supplement which works from the inside out, it addresses the factors in the gut which can lead to bad breath and it helps reduce the bacteria which, when mixed with sweat, can create unpleasant body odors. In our review below we dig up all the pertinent details on Body & Breath Fresh to give you the information you need to decide if this is the right malodor fighter for you.
Ingredients & How It Works
The first three of the all-natural ingredients, as well as the Peppermint Oil all have antibacterial properties that help neutralize body odor as well as the compounds which lead to bad breath. Lactobacillus acidophilus, which occurs naturally in the gut, helps control fungi that can contribute to malodors, helping to balance "good" and "bad" bacteria. Chlorophyllin absorbs odor-causing compounds, while green tea neutralizes them both in the mouth and throughout the body. Magnolia Bark Extract, on the other hand, works on reducing stress which decreases occurrences of dry mouth which is another potential factor in bad breath. Fennel seed is included for its ability to keep you regular, with its laxative properties, helping to reduce digestive issues that can also lead to bad breath.
Daily Serving
The recommended dosage for combating notable malodors is to take two to three capsules a day. Once things are under control, you are advised to take two capsules a day, one in the morning and another at night, to help maintain the positive effects.
The Cost
At the time of our review, you could buy Body & Breath Fresh from the manufacturer's website, with your choice of any number of packages. A single bottle with a month's supply (assuming you take two per day) of 60 capsules cost $49.95. You could purchase a two-bottle pack for $34.95 each and four bottles were priced at $27.95 per unit. You could purchase the six-bottle/six-month bulk discount package for $23.30 each.
Guarantee
The product comes with a robust money-back guarantee. If you're unsatisfied with it for any reason you can return both opened and unopened bottles for a refund within 60 days of purchase.
Our Review Summary of Body & Breath Fresh
Body & Breath Fresh is formulated to stop malodors in their tracks, rather than to just temporary cloak them with a pleasant smell for a little while. Its ingredients and dosage were selected based on thorough research of clinical data. We like the fact that all the ingredients are natural substances and we also like the fact that the company backs up its product with a two-month money-back guarantee, giving you plenty of time to try it risk-free. We think this is a product worth trying.
Well researched reviews, from the experts at Research & You.