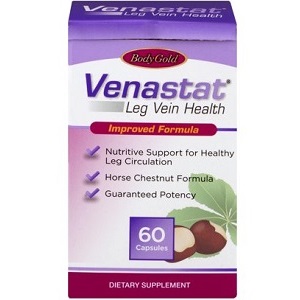 Body Gold Venastat - Does It Work?-Review
What is Body Gold Venastat?
This is a review on Body Gold Venastat, a varicose vein supplement that claims to provide nutrient support for healthy leg circulation; relieving itchy, tired, and swollen legs. This review will examine various aspects of this product including ingredients, cost, and customer support. In doing so, we will help you decide if this product is worthy of your purchase.
Ingredients & How It Works
This product formula contains Horse Chestnut Extract, which is known to promote blood circulation and reduce pain as well as inflammation. This ingredient is clinically proven to support varicose veins and is popular in competitor products on the market.  Diosmin is an antioxidative bioflavonoid that encourages circulation and lymphatic flow. This formula appears to be missing additional ingredients known to offer additional internal symptomatic relief from varicose veins such as Butcher's Broom. This product is also missing a complementary external solution, such as a topical cream, which is used by competitor brands to offer additional relief. Furthermore, there is no indication if this product was manufactured in a GMP certified facility, which is a concern as it may suggest quality processes or ingredients were not used during production.  
Daily Serving
To use as a dietary supplement, adults should take 1 to 2 capsules daily before a meal. For optimal results, use for 4 weeks in a row. There appears to be an adequate concentration of the key active ingredients, however, the lack of supportive ingredients or a complementary cream may inhibit the efficacy of this product when compared to other brands on the market.  
The Cost
This product can be purchased from a variety of third-party sites such as Amazon or Walmart. For a bottle of 60 capsules, you can expect to pay $9.80. This is a very low price in comparison to the market standard which may suggest that low-quality ingredients where used. The extended use of this product may be needed to experience any difference, in which the accumulated cost may become expensive. There appears to be a bulk package of 105 capsules available on Amazon from various sellers. The price starts at $22,49.
Guarantee
After extensive research, we were unable to find any manufacturer guarantee information available. When purchasing this product, customers will have to inquire with the third-party seller if they have a customer support system in place. What is concerning to note is that there are many negative customer reviews, of which multiple side effects were said to have been experienced. These include nosebleeds, nausea, and an allergic reaction associated with latex. Furthermore, there where other customers who mentioned that this product was ineffective.   
Our Review Summary Of Body Gold Venastat
This product contains ingredients that have been clinically proven to support the symptomatic relief of varicose veins. While the ingredients are adequate dosed, the formula is missing key supportive ingredients. This may likely prevent this product form offering a total-care solution. The lack of GMP certification and cheap price may indicate poor-quality ingredients where used. The lack of manufacturer guarantee as well as many poor customer reviews is a concern. for these reasons, along with the multiple negative side-effects stated, we do not recommend Body Gold Venastat as a varicose vein solution of choice. 
Well researched reviews, from the experts at Research & You.