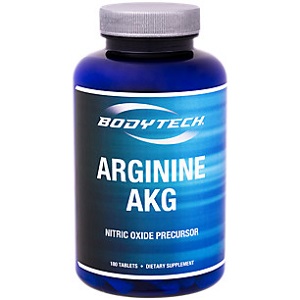 BodyTech Arginine AKG - Does It Work?-Review
What is BodyTech Arginine AKG?
The following is an informative review for a product called Arginine AKG and it will inform you of all the facts about this product. This product strangely does not seem to come with any kind of description of claims however, from the ingredients we can assume that it is probably supposed to aid exercise and help build muscle.
Ingredients & How It Works
Calcium - 94 mg
L-arginine alpha-ketoglutarate - 3000 mg
Calcium is well known for its benefits for strong bones and healthy teeth and the proper developments and functions of muscles and nerves. L-arginine alpha-ketoglutarate is a chemical which can be found naturally in the body and is often used for medicine, it may be able to create pathways in the body and therefore may help assist with muscle formation and may even help the body to better and easier heal wounds.
Daily Serving
The manufacturer suggests that adults should take three tablets twice a day on an empty stomach. It is also advised that the best times to take these tablets, according to the manufacturer of this dietary supplement, are mornings and half-an-hour before lunch. The manufacturer additionally recommends that you should drink at least 64 ounces of water daily when using this product. The manufacturer also cautions that you should consult your doctor prior to use if you are pregnant, nursing, have any medical conditions or are using any medications as a safety precaution.
The Cost
This product can be purchased online through the manufacturer's website, The Vitamin Shoppe, and according to their website, it should cost you $29.99 for a bottle that contains 180 tablets. There is a discounted offer advertised to buy one bottle and get 50% off the second bottle.
Guarantee
The manufacturer offers a full money back guarantee that is valid for 30 days from your purchase date and they state that they will refund opened and used products within this time period if you are unhappy for any reason and that you are required to return the product along with your receipt in order to qualify for a refund.
Our Review Summary Of BodyTech Arginine AKG
This product does have some good ingredients and it also have a money back guarantee which could suggest that it is an ok product however, the manufacturer has failed to provide the proper introduction and intention for this product which unfortunately, could be misleading for some potential customers and it also has quite a few negative customer reviews on its website stating that some have felt more tired and weak when using this dietary supplement which is greatly concerning. This product seems to have more significant downsides than positive ones when taking into account all the relevant findings and therefore, we recommend that you should rather consider other similar product that have been proven effective and have better customer reviews available.
Well researched reviews, from the experts at Research & You.