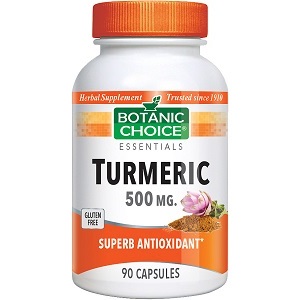 Botanic Choice Turmeric - Does It Work?-Review
What is Botanic Choice Turmeric 500 mg?
This is a review of a Botanic Choice product called Turmeric 500 mg. The manufacturers of this product claim that daily use of their supplement can drastically improve the condition of your joints as well as providing your liver with support. Turmeric has been used for its medicinal qualities for centuries and this plant is still used in Chinese and Ayurvedic medicine. Continued use of this dietary supplement can help decrease inflammation in the joints leaving you with less pain and increase suppleness with smoother movement in your joints.
Ingredients & How It Works
   Turmeric Powder
   Gelatin Capsule
   Rice Flour
   Silicon Dioxide
   Magnesium Stearate
The main active ingredient in this dietary supplement is turmeric powder which is an excellent source of antioxidants which support joint health. Although this product contains the required proportion of the active ingredient we were rather concerned about the high proportion of artificial ingredients included in this product which is marketed as a natural supplement. An additional concern we identified when completing our research about this product is the fact that the capsules which contain the supplement are made of gelatin. This means that this dietary supplement is not suitable for individuals who adhere to a strict vegan diet.
Daily Serving
According to the instructions provided by the manufacturer of this product, an adult should take one 500 mg capsule three times daily. This means that your total daily intake equals 1500 mg of turmeric which to us seems to be a very high dosage. Most competitive products in this category suggest a daily dosage of 1000mg as being optimum for most healthy adults.
The Cost
You can buy this product online from the manufacturer.  They currently have a special offer running where you purchase one bottle of the supplement for $7 and get another bottle free. You receive a two month supply for a very low price which we were quite impressed by.
Guarantee
Unfortunately, the manufacturer of this product does not offer any guarantees on this product. Additionally, after we completed extensive research we were unable to find any information regarding return and refund policies. This is quite concerning as the lack of a guarantee indicates that the manufacturer is not entirely confident with the quality of their product.
Our Review Summary Of Turmeric 500 mg
When we completed our review of this product we found that it could provide adequate support for the health of your joints. This product contains turmeric which is a powerful antioxidant which aids in reducing inflammation. It is also available for a very affordable price with a special offer where you get two bottles of this supplement for the price of one. However, the daily dosage of this product is far higher than the regular amount. Additionally, this product does not offer the customer any guarantee on their purchase and the very limited reviews available on their website make it difficult to trust this product.
Well researched reviews, from the experts at Research & You.