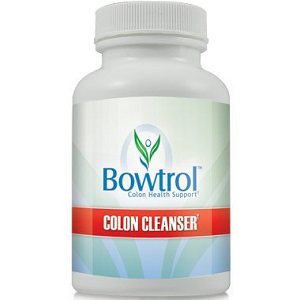 Bowtrol Colon Cleanser - Does It Work?-Review
What is Bowtrol Colon Cleanser?
This is a review of Bowtrol Colon Cleanser, a natural herbal colon cleansing treatment designed for people suffering from constipation issues and digestive discomforts to help maximize colon health without causing loose stool or uncomfortable cramping. It is also used as a weight control tool.  
Ingredients & How It Works
Primary Ingredients in Proprietary Blend:
Chinese Rhubarb Root Powder

Cascara Sagrada Bark Powder

Bentonite Clay

Cape Aloe

Flax Seed Powder

Senna

Slippery Elm Bark

Wormseed

Black Cumin Seed

Olive Leaf Extract

Thyme Leaf Powder

Garlic Extract

Organic Cloves

Peppermint Extract
Secondary Ingredient is a gelatin capsule.
This is certainly a solid list of ingredients, though the label does not break down how much of each product is included in the proprietary blend. Cascara Sagrada is a natural laxative that helps cleanse the colon; Flax seeds improves digestive health and relieves constipation; Aloe eases gastric irritation; Senna stimulates the colon helping regulate bowel movements; Peppermint promotes the healthy production and flow of bile; Garlic increase immune system wellness; Wormseed helps get rid of harmful organisms; Olive leaf extract get rid of harmful toxins; Bentonite clay helps the body get rid of toxic metals and harmful chemicals.
We were surprised not to find L. Acidophilus as an ingredient as it's known for long-term health and prevention of stomach issues as well as gentle cleansing ingredients such as Psyllium Husk, Oats, and Prunes included in this product.
Daily Serving
The product label states that adults should take 3-5 capsules before bed.  They recommend to start with a low dosage and gradually increase until the desired bowel cleansing is reached, or as is directed by a physician.  The average dosage is 3 capsules per day.  
Individuals who are pregnant, nursing, have or have had kidney disease or who are currently taking medication should consult with their physician before using this product.  Additionally, consumers are advised to consult with their healthcare professional if using this product longer than 2 weeks at a time.
A final warning on the label states not to continue use if you develop diarrhea, loose stools or abdominal pains as these conditions may worsen since the product contains Cascara Sagrada Bark Powder, Senna, Chinese Rhubarb Root Powder and Cape Aloe.
The Cost
You can buy this cleanse exclusively through third-party retailers. We found Bowtrol Colon Cleanser online for $27.95 for one bottle which contains 60 capsules.  Therefore the bottle will last no more than 1 month.
Guarantee
The manufacturer offers a 90-day guarantee on their website for unopened items only. Shipping fees are not credited and there is a $10 restocking fee for items returned.
Our Review Summary Of Bowtrol Colon Cleanser
Designed as a natural herbal colon cleansing treatment, Bowtrol Colon Cleanser is a solid product that helps relieve constipation to prevent abdominal pains, diarrhea, bloating and gas.  Customer reviews on this product are mixed, unfortunately, with the chief repeating complaint that customers were no longer finding the product effective and wondered if the manufacturer had changed it to be a weaker formula. Additionally, the price point is high compared to other competing products and the satisfaction guarantee leaves something to be desired since it throws a $10 restocking fee onto the buyer.  There is no question that the manufacturer is now welcoming new customers to try out their product risk-free.
Well researched reviews, from the experts at Research & You.