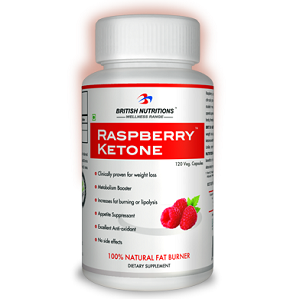 British Nutritions Raspberry Ketone - Does It Work?-Review
What is British Nutritions Raspberry Ketone?
This review will take a close look at British Nutrition Raspberry Ketone. It is a supplement that is designed to support weight loss by burning fat in your body. The manufacturer claims that the raspberry ketones contained in this product have been proven to effectively help promote healthy weight loss, by shedding pounds quickly like never before.
Ingredients & How It Works
Raspberry Ketones is the only ingredient in this supplement. This ingredient helps to lose weight by burning fat, increasing metabolism, suppressing appetite and by breaking down carbohydrates.
Other ingredients have not been indicated, which is strange because all the products that we have reviewed before always indicate the list of other ingredients.  It is important to disclose other ingredients because some individuals are allergic to some ingredients.
Daily Serving
The recommended dose is 1 capsule twice a day with 240 ml of water, 30 minutes before you wake up, and 30 minutes before lunch. A third capsule is recommended to maximize results. You can take it 30 minutes before dinner. It is recommended that you use British Nutritions Raspberry Ketone in conjunction with a healthy diet plan and regular exercise in order to achieve good results. We assume that one needs to take the first dose while in bed because it is stated that you should take it before you wake up.
The Cost
You can purchase this supplement through the manufacturer's website. They sell 120 capsules (in a bottle) for $21.91. You get a 13% discount if you purchase two bottles, and 17% off if you purchase three bottles, and so on. Consumers from India are not charged for shipping.
Guarantee
There is no money-back or any other form of guarantee that is offered by the manufacturer, which is concerning because that means that the consumer is at risk of loss while the manufacturer will gain whether the product works or not work for the consumer. They indicate that no returns are accepted and no refunds are offered.
Our Review Summary Of British Nutritions Raspberry Ketone
British Nutritions Raspberry Ketone seems to be a promising product, especially because the ingredient is natural, and has been proven to have some effect on weight loss. We like that the manufacturer offers a discount on the price if you buy more than one bottle of the supplement. We also like that there are no added preservatives or artificial ingredients. However, we have a number of concerns. To mention a few, there are no consumer reviews on the product. Therefore, we do not know if anyone has purchased the product before, or if it has worked for anyone. This is not good, especially because there is not even a money-back guarantee on it. It is a risk to buy a product that is not backed by a guarantee, and one that does not have consumer reviews. We would not recommend buying more than one bottle, even though it is cheaper when buying in bulk because you might end up losing more if it does not work. We recommend that you look for another weight loss product.
Well researched reviews, from the experts at Research & You.