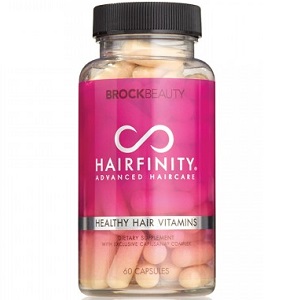 Brock Beauty Hairfinity - Does It Work?-Review
What is Brock Beauty Hairfinity?
Today we review Hairfinity manufactured by Brock Beauty. Hairfinity claims to nourish your hair from the inside out, dousing each strand with vitamins and minerals that ensures longer, stronger hair. If you regularly struggle with hair breakage, dull and lifeless hair or hair that falls out all the time then investing in the right supplement might work wonders for you. To find out more about this product, read the rest of our review below for all of the facts.
Ingredients & How It Works
Vitamin A
Vitamin C
Vitamin D
Thiamine
Riboflavin
Niacin
Vitamin B6
Folate
Vitamin B12
Biotin
Pantothenic Acid
Calcium
Capilsana Complex Proprietary Blend
MSM
Pea Protein Powder
Horsetail Herb Extract
Horsetail Herb Extract helps to strengthen each individual hair strand whilst Biotin helps to keep your hair bouncy by improving the elasticity of your hair and also produces keratin. MSM promotes the health and wholeness of your skin, scalp and hair. The vitamins and minerals are packed with antioxidants which support scalp health and also promotes active circulation. We could not find any information stating whether this product is suitable for vegans or vegetarians.
Daily Serving
It is best to take 2 capsules per day. Unfortunately, we could not find any information stating if this supplement is best taken with or without food. It is also not stated if this capsules is most beneficial when taken in the morning or in the evening.
The Cost
You can buy this supplement directly from the manufacturer's website. One bottle, which will last you one month, costs $30.61. You can place an order by email or by telephone by phoning a toll-free number. Unfortunately, no discounts are being offered with this product at the moment.
Guarantee
You can return your product within 14 days of receipt of purchase if you are unsatisfied with this product. You will be responsible for the shipping costs in returning the unwanted product. Seeing as this product is made with natural ingredients, it may take a while to notice results making this guarantee policy a bit unpractical.
Our Review Summary Of Hairfinity
We like that this product has gone out of its way to incorporate an extensive list of natural ingredients that claim to improve the quality of your hair. We also like that this product can be bought directly by the manufacturer and that they ship overseas. However, we feel that the guarantee policy does not allow an acceptable amount of time to truly test out the efficacy of this product. This means that the customer runs a risk money wise in buying this product, especially considering the expensive price of the product. We are also not happy about the fact that vegans and vegetarians can't invest in this product either, because there is simply no information stating if this product contains any animal ingredients. Lastly, we would have liked to see a discount policy on bulk offers on the manufacturer's website but they do not seem to have taken this idea into consideration.
Well researched reviews, from the experts at Research & You.