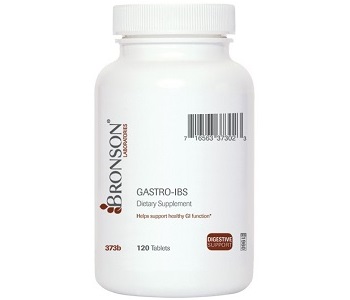 Bronson Gastro IBS - Does It Work?-Review
What is Bronson Gastro IBS?
In this review of Bronson Gastro IBS, we see if the product has been successfully formulated to help those suffering from gastrointestinal problems as well as those suffering from Irritable Bowel Syndrome (IBS) by working as an antioxidant which alleviates the symptoms such as bloating, indigestion, constipation, and cramping. In this review of Bronson Gastro IBS, we note that it contains a probiotic called Lactospore, which is formulated together with active herbal ingredients which claim to restore health to the digestive tract by curbing inflammation of the intestines and lessening the mucus which is over-produced by digestive systems affected by IBS.
Ingredients & How It Works
Boswellia Serrata
Thiamine
Calcium
Pantothenic Acid
Vitamin B6
Vitamin A
Vitamin C
Peppermint leaf extract
Rice Bran Powder
Chymotrypsin
Bismuth Subsalicylate
Magnesium
Niacinamide
Other Ingredients:
Stearic Acid
Magnesium Stearate
Silica
Hydroxypropyl Methylcellulose Phthalate
Cellulose Croscarmellose
Triacetin
Magnesium Silicate Hydroxide
The key ingredient vitamins ensure adequate functioning of the intestinal tract by encouraging collagen production, amino acid absorption, and reduction abdominal bloating. Thiamine and Chymotrypsin break down proteins and carbohydrates while Boswellia Serrata is used in the proprietary blend for its inflammation-reversing properties. Peppermint is a painkiller, Sodium regulates water balance, Magnesium relaxes the digestive tract and Rice Bran Powder maintains ph levels. Calcium plays a role in the activity of digestive hormones and Bismuth Subsalicylate prevents nausea.
Daily Serving
It is recommended to take one tablet per day.The manufacturer did not mention whether the tablet should be taken before or after meals.
The Cost
One can go online and buy a bottle of 60 tablets at a price of $3.60 or a bottle of 12 tablets for $16.79. No discounts were found for this product.
Guarantee
Boron does guarantee Gastro IBS for a full year after the date of purchase for a refund that excludes shipping. The unused portion of the product may be sent back for the refund.
Our Review Summary Of Bronson Gastro IBS
We think that Boron Gastro IBS is affordable at $3.30 per 60 tablet bottle, it also has
good reviews to back it up. It must be noted that potentially contaminated substances may be present in the blend, such as Magnesium Stearate which is obtained Stearic Acid that has been combined with mineral magnesium. Stearic Acid is a fatty acid that is derived from milk, butter,  pork, and beef. Magnesium Stearate is actually a lubricant used in the manufacturing facility that prevents the tablets from sticking to machinery. As these tablets are susceptible to contamination, the Manufacturer does need to stipulate that every tablet is tested and is free from contamination. Magnesium Stearate is an additive which is alongside others listed in the Other Ingredients.The directions for use are also confusing.The unclear dosage directions and the presence of additives are serious matters of concern.
Well researched reviews, from the experts at Research & You.