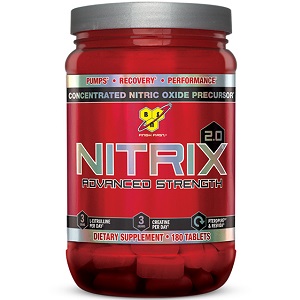 BSN Nitrix 2.0 Advanced Strength - Does It Work?-Review
What is BSN Nitrix 2.0 Advanced Strength?
This is a review of Nitrix 2.0 Advanced Strength, a concentrated version of ingredients to help the body increase its production of Nitric Oxide. It is designed to help blood vessels dilate to allow for better blood flow and muscle performance both during and after workouts.
Ingredients & How It Works
Nitrix 2.0 Proprietary Blend is made of 3.6 grams of the following ingredients:
L-Citrulline

Hawthorne Extract (Aerial Parts) (1% Flavonoids, 3% Oligomeric Proanthocyanidins)

Pomegranate Extract (Fruit) (20% Punicalagins)

Grape Seed Extract (85% Polyphenols)

Pterostilbene (pTeroPure)

Red Pepper Extract (fruit) (2% Capsaicinoids) (Capsimax)

Trans-resveratrol (resVida)

Black Pepper Extract (fruit) (95% Piperine) (BioPerine)
Secondary Ingredients:
Aqueous Coating

Microcrystalline Cellulose

Stearic Acid

Croscarmellose Sodium

Magnesium Stearate

Silicone Dioxide

FD&C Red #40

FD&C Yellow #6

Titanium Dioxide

FD&C Blue #2
The ingredient list for the 90 count bottles and the 180 count bottles vary slightly and this information is incorrectly listed on the manufacturer's website but can be seen plainly on the bottle labels on third party websites.  In both cases though, the inclusion of artificial colorants and flavorings in the many ingredients in this list is disconcerting. And duly curious is the absence of L-Arginine (AAKG) which is well known to increase Nitric Oxide production.  The good news is that this product does not contain caffeine.
Daily Serving
Directions state to take three tablets of Nitrix 2.0 twice a day for a total of 6 tablets. The recommendation is to take 3 tablets approximately 60 minutes before training and another 3 tablets after working out.
Consumers are warned to consult their physician before using this product if taking any medications, if you are under a physician's care for any medical condition, if you are under 18 years of age, if you are pregnant or trying to get pregnant, or nursing.
Note that there is also an allergen warning on the label that states that this product is manufactured on equipment which processes products containing milk, egg, soybeans, shellfish, fish oil, and tree nuts.
The Cost
There are two sizes of bottles for this product.  One bottle with 90 softgels is sold for $39.99 on the manufacturer's website; 180 tablets in a bottle of Nitrix 2.0 sell for $69.99. At such high costs, it is a relief that shipping costs are included in these steep prices.  Since you will need 6 tablets a day or approximately 180 a month, we were curious as to why the manufacturer does not choose to sell this product in discounted multi-packs that would have been more attractive to the consumer's eye.
Third party websites do offer the 90 count bottle for $31.33 plus shipping and the 180 count bottle for $72.13 including shipping.
Guarantee
We could not find any satisfaction guarantee for this product.  Given the high price point for this product, the fact that there are many items on the market which are both less expensive and come with a satisfaction guarantee, buyers may wish to check out those products
Our Review Summary of BSN Nitrix 2.0 Advanced Strength
Manufactured in a GMP facility and made in the USA, Nitrix 2.0 can be used by athletes or trainers who wish to improve their cardiovascular performance with a solid product designed to support muscle fullness and vascularity.  Unfortunately, it is not eligible to be shipped to international addresses.
The major complaint among customer reviewers is that they felt the original formula for Nitrix was more effective than Nitrix 2.0; the formula changed after Twin Labs bought BSN and the original formula is no longer available. The consensus is that the product is not worth the money and given that there are competitive products on the market which are both more natural, have higher levels of Nitric Oxide producing ingredients which meet the recommended daily totals, and with satisfaction guarantees that assure customers that if they do not think the product is worthwhile that they will receive a full refund with no questions asked, we'd be surprised to find too many consumers distressed about leaving this artificially red colored tablet behind for a cheaper and better product on the market.
Well researched reviews, from the experts at Research & You.