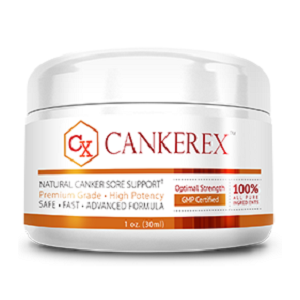 Cankerex - Does It Work-Review
What is Cankerex?
Anyone who has suffered through the sharp pain of cankers knows that quick relief is, without question, the first priority. Cankerex joins numerous other canker treatment products that aim to do just that. But its manufacturer says that Cankerex, in addition to helping relieve the pain, also reduces the time for the ulcer to heal and works to prevent the condition from returning. The manufacturer stresses the fact that the components of its formula were chosen as a result of reviewing clinical studies which demonstrate each as successful in helping relieve or prevent canker sores.
Take in our review of Cankerex below to get the facts about this product and make an informed buying decision.
Ingredients & How It Works
Cankerex contains the following in powder form, which is used topically:
Vitamin B12 and Licorice are both included for their analgesic properties. Alum, Propolis, Lysine and Folic Acid work to hasten the healing of canker sores. Propolis brings its antibacterial attributes to the equation. Lysine also helps by cracking down on additional outbreaks. Basil is incorporated for its antiviral and antimicrobial abilities, which contribute to both the healing and the prevention of future outbreaks. 
Daily Serving 
The directions for use are to place a pinch of Cankerex in your mouth and let is sit for between 60 and 100 seconds. After that time, and once it has become mixed with saliva, swish it around intensively for up to three minutes. For preventative purposes, place a small amount of powder in your mouth, sip a little water and swish around. This should be done once or twice a week.
The Cost 
Each one ounce (30 ml) jar, when bought on its own costs $49.95 when you buy it from the manufacturer's website. Additional bulk purchase alternatives are also available. If you purchase two jars the price per jar comes down quite a lot to $34.95. A four-jar purchase costs $27.95 and if you go for the Best Value Package of six jars, the price comes down to $23.95 per jar.
Guarantee
Serious companies that put together serious products are able to provide serious money-back guarantees and that's the case with Cankerex. It comes with a full 60-day refund policy under which you can return both opened and unopened product up to 60 days after purchase for a refund of the purchase price. This type of policy not only expresses the company's confidence in its product but also indicates it's a company that puts customer relations front and center.
Our Review Summary of Cankerex
Cankerex brings a unique formulation to the canker-relief category, both in terms of its ingredients and the fact that it comes in powder form. Its components were chosen for their research-verified efficacy in reducing the pain and time to heal of cankers. We like the fact that it is produced in an FDA-approved facility that uses cGMP standards to control quality and we feel the customer-friendly money-back guarantee indicates a product and a company behind it that we feel comfortable recommending.
Well researched reviews, from the experts at Research & You.