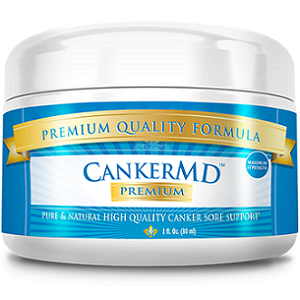 CankerMD Premium - Does It Work?-Review
What is CankerMD?
Canker sores are non-contagious ulcers that occur in the soft part of the mouth like the cheek and the back of the palate. There are various things that can cause a canker sore and there are several contributing factors too. They aren't a major health concern in terms of that they don't put a person in any danger but they can make it difficult to swallow and speak. It is also a good idea to treat them as soon so that they don't get infected and get worse. CankerMD Premium is a natural product designed to reduce pain from a canker sore and help it to heal faster. It is GMP certified and contains no additives or preservatives. Read our review below of CankerMD Premium.
Ingredients & How It Works
Aluminum Potassium Sulfate
Vitamin B12
Licorice
Lysine
Folic Acid
Holy Basil
The aluminium potassium sulfate is an antiseptic, but it also helps to shrink the canker sore by pulling moisture out of it. The propolis also has antiseptic effects. The licorice is a gentle anesthetic that helps to numb the pain of the canker sore.
The other ingredients nourish the healing tissue so that it heals better and faster.
Daily Serving
To use this product, take a small pinch of the powder form that it comes in and place it on the affected area. The powder may be removed from the mouth after 60 to 100 seconds. Alternatively,  place a small amount if CankerMD powder in water and rinse the for for 60 to 100 seconds. Either of these dosages can be applied up to four times a day. The product can then be used on a weekly basis by taking a small amount of powder and mixing it with water and rinsing as before.
The Cost
A single month supply (1 fl oz) can be bought online for the price of $48. Customers who wish to purchase multiple packages of the product will receive a discount. When customers purchase three packages together they receive a discount of $56 because three packages brought together costs $91. When customers buy four packages together the discount is $80 because the total for four packages is $112. Six packages will cost a customer $138 which results in a discount of $150.
Guarantee
CankerMD is covered by a 90-day money-back guarantee. This means that if the customer feels that they are unsatisfied for any reason, they may return the empty product for a complete refund. There are several positive customer reviews about this product.
Our Review Summary Of CankerMD
The ingredients that were included in this product were well considered because of their biological effects that are scientifically proven. They also help to heal canker sores without causing harsh side effects.
The price of the supplement is really affordable, especially for people who buy multiple supplies as canker sores are a recurring condition. Finally, the guarantee just helped to support the confidence that the manufacturer has in the product because it shows that they do not anticipate customers being unsatisfied. Find out more about Premium Certified here. 
Well researched reviews, from the experts at Research & You.