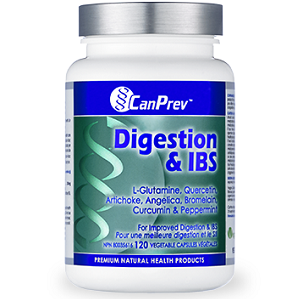 CanPrev Digestion & IBS - Does It Work?-Review
What is CanPrev Digestion & IBS?
This is a review of a product called CanPrev Digestion & IBS. The manufacturer claims that this product will calm digestive disturbances though its perfect blend of amino acids and antioxidants. However, can this product support all of the symptoms associated with irritable bowel syndrome (IBS)? This review will examine the product as well as the manufacturer's support offered to the customer, helping you determine if this product is the right one for you.
Ingredients & How It Works
L-Glutamine - 350mg
Quercetin - 125mg
Artichoke (cynara scolymus) leaf - 107mg
Angelica archangelica root - 50mg
Bromelain 1000 GDU (pineapple) - 50mg
Curcumin (turmeric) - 31mg
Peppermint (mentha x piperita) leaf - 20mg
This product's formula contains a variety of ingredients that have been known to support digestion; such as L-Glutamine which focuses on digesting proteins while Artichoke leaf stimulates bile production which promotes the breakdown of food. Ingredients such as Quercetin, Curcumin, and Peppermint have been known to reduce inflammation. Angelica archangelica root is known to reduce intestinal gas and flatulence. Although these ingredients have the potential to reduce many of the side effects associated with IBS; the lack of soothing supportive ingredients like aloe vera may inhibit the product's ability to relieve pain and cramping. This, along with the lack of a dual-action formula to promote long-term digestive health, could prevent this product from being a total care solution. This formula is free of allergens such as dairy, soy, gluten, and GMOs as well as is vegan-friendly. There is no mention of this product being manufactured in a GMP certified facility, however, which is a concern as it may suggest quality was not a priority during production.
Daily Serving
To use this product as a dietary supplement, the manufacturer suggests that adults take 3 capsules twice a day with a meal. The formula appears to have an adequate concentration of key active ingredients. However, the lack of soothing supportive ingredients may likely impact its efficacy in relieving all associated symptoms of IBS. If use exceeds 3 months, consult a medical physician is recommended. This product is not intended for pregnant or breastfeeding mothers as well as those with a previously known medical condition such as anemia, gallstones, excessive stomach acid, and ulcers to name a few. Prolonged exposure to sunlight should be avoided when taking this product. Side effects may include Hypersensitivity, nausea, vomiting, and diarrhea. If these symptoms emerge, discontinue use and seek medical attention.
The Cost
While this product cannot be bought directly from the manufacturer's website, it is available on a variety of third-party sites. On Amazon, 1 bottle (containing 120 veggie capsules, which would last less than 1 month if taken according to the manufacturer's suggestion) retails for $41.11. This is rather expensive, especially considering the lifespan as well as the potential negative side effects which could aggravate IBS. Otherwise, there appear to be no discounts of package offers available, customers would need to invest time into researching each third-party site if they were to try to find a valuable deal.
Guarantee
It is unfortunate to note that we were unable to find any manufacturer guarantee available for this product. We were only able to find the customer care details, in which potential customers would have to make contact and inquire about the refund and returns policy. This may be time-consuming and is very inconsiderate of the manufacturer.  Furthermore, there are absent customer reviews to vouch for the efficacy of this product. This is highly concerning as there is no proof if this product can deliver on its claims.
Our Review Summary Of CanPrev Digestion & IBS
This product contains many ingredients known to offer symptomatic relief from IBS. While the concentration seems adequate, there are many negative side effects that may result from the use of this product which could aggravate an already painful case of IBS. Furthermore, the product is missing soothing ingredients and a dual-action formula to promote long-term digestive health; inhibiting it from offering a total care solution. This product is expensive, will not last an entire month, and does not come in package offers. There is also no manufacturer guarantee or customer reviews to support claims of efficacy, which is a concern. For these reasons, we do not recommend CanPrev Digestion & IBS as the IBS solution of choice. 
Well researched reviews, from the experts at Research & You.