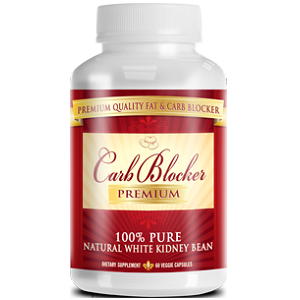 Carb Blocker Premium - Does It Work?-Review
What is Carb Blocker Premium?
Using natural ingredients that feature white kidney beans, this product according to the manufacturer aims to incapacitate enzymes in your stomach that turn starch into sugar so the sugar is not absorbed by your body and thereby help boost weight loss. Does this product live up to its billing? Read our Carb Blocker Premium review below to get all the details.
Ingredients & How It Works
Quantities are per two-capsule daily dosage.
White kidney beans, often called "carb blockers", aid in blocking the enzyme responsible for breaking down carbohydrates in your small intestine. In short, it reduces the amount of calories that actually enter your system. Clinical studies took volunteers and gave them at random either white kidney beans extract or a placebo and found that those with the extract experienced higher weight loss than those taking the placebo.
Chitosan has often been used to treat obesity and high cholesterol. Since it is a fibrous substance, it can block the absorption of fats and lipids. Chromium is often used for blood sugar control and lowering bad cholesterol. It helps decrease body fat and improves athletic performance and energy levels.
Daily Serving
Two vegetable capsules should be taken daily for adults. As with any dietary supplement, if you are pregnant, nursing, under the age of 18 or already have a medical condition, you should seek the advice of a health-care professional prior to using.
The Cost
You can buy Carb Blocker Premium from the manufacturer's website. A one-month supply at tht the time of our review sold for $48.00. You could purchase a three-month supply for $91.00 and the largest bulk-buy package of six bottles (for six months) cost $138.00 or $23.00 per bottle.
Guarantee
Carb Blocker Premium offers a generous product guarantee. Users are encouraged to try the product for 90 days and if they are not satisfied return it for a full refund. Given that it will take a few weeks to start seeing and feeling results, this gives customers the time needed to properly test the product's effectiveness without worrying about a financial risk in doing so.
Our Review Summary of Carb Blocker Premium
While there are many products out there that promise to help you on your weight loss journey, there are not many manufacturers that will provide you with clinical studies and explicit information on the ingredients. Since this product is primarily using white kidney beans, it is a natural way for carbohydrates to be blocked within the body to decrease the sugar uptake. Although it can have some flatulence as a short side effect, it is free of harm for the user and a great addition to a weight reduction plan. Given that the guarantee is very customer friendly for a product of its category, we are comfortable recommending this product.
Well researched reviews, from the experts at Research & You.