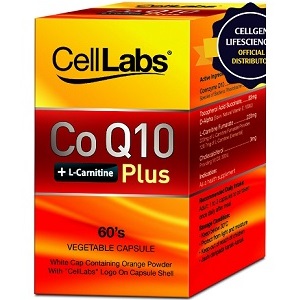 Cellabs CoQ10 + L-Carnitine Plus - Does It Work?-Review
What Is Cellabs CoQ10 + L-Carnitine Plus?
If you're on a statin drug - and one in every four Americans is - COQ10 is not only desirable but mandatory. COQ10 is used for energy production by every cell in your body, and is therefore vital for good health, high-energy levels, longevity, and general quality of life. It has anti-inflammatory and protective properties which are incredibly beneficial to the heart, brain and circulatory system in particular. We lose COQ10 naturally as we age and statin drugs also deplete them.
In this review, we put COQ10 as manufactured by Cellabs under the spotlight. Most brands have doses of between 100mg and 200mg, with 200mg being close to the 250mg recommended medically. Anything much lower is ineffective, and anything too high is dangerous. Brands not only differ by dosage but by what else they possibly bring to the formula mix and what the level of bioavailability is that they have to offer.
Ingredients and How It Works
Coenzyme Q10
Tocopherol Acid Succinate, D-Alpha
L-Carnitine Fumarate
Cholecalciferol
This formula gives you a 75 mg serving of Coenzyme Q10. It is one of the lowest we've come across during our research and you'd have to take about 4 capsules to get your daily serving. The Tocopherol is equivalent to about 83 mg of vitamin E, which increases the absorption levels of the COQ10, but do note that research has shown that by far the best compound to aid bioavailability is Bioperine. Quite a few brands do not have any bioavailability aids at all. Vitamin E also improves the health of your arterial walls, so as to prevent blockages from happening.
The heart needs fatty acid breakdown to occur for energy production. This is where L-Carnitine comes in as L-Carnitine helps with the metabolism of  long-chain fatty acids. It means that the overall effect is that specific organs such as the heart, will have more energy output. The last ingredient, Vitamin D, is also a vital heart health protector.
Daily Serving
As with much else on this website, some aspects of critical information such as the price isn't all that easy to locate. We didn't see the manufacturer clearly specifying what the dosage is. But, judging by the low amount of COQ10 contained, you would need to take 4 per day to see a long-term difference. As always, clear this first with your doctor, especially if you are on statin drugs or low blood pressure drugs,or are pregnant or breastfeeding.
The Cost
A bottle of 60 capsules costs $38.53. This is a Malaysian product and we couldn't find any discounts or bulk buying offerings in the online web store, although it is likely there may be local discounts, online and elsewhere. As a foreign purchaser, you have to buy your tablets through this site, and not the online site locals use.
Guarantee
The manufacturer explicitly states that your purchase is non-refundable, non-returnable and non-exchangeable. Your purchase is therefore particularly risky as you have no course of action it seems to get your money back and the manufacturer is Malaysian, so make peace with this before ordering. There is a dedicated customer call center which you can reach by emailing or calling. Perhaps chat through anything about the product with them first if you are unsure.
Our Review Summary Of Cellabs CoQ10 + L-Carnitine Plus
The formulation adds ingredients that magnify the working of COQ10 while also bringing their own, complementary benefits. L-Carnitine Fumarate as an extra ingredient is hardly found anywhere else.
The price point may look attractive at first but there is less COQ10 in this formula than elsewhere - most brands carry a minimum of 100 mg. This means you will need to take at 4 capsules in order to feel the effects. There is no GMP certification as the manufacturer is in Malaysia. There is also a totally transparent disclaimer from the manufacturer that they do not engage with refunds or exchanges in any way. Their transparency is to be lauded. However, this does nothing to soften the fact this is a high-risk purchase, to the extent that even if the incorrect product is shipped to you, you will have no remedy. As a consumer, this is never good as far as online purchases go. At very minimum, change to a guarantee-offering manufacturer. If you're serious about your health, abide by the medical guidelines for COQ10 and look for 100% pure COQ10, no additives or binders, and Bioperine for excellent absorption. 
Well researched reviews, from the experts at Research & You.