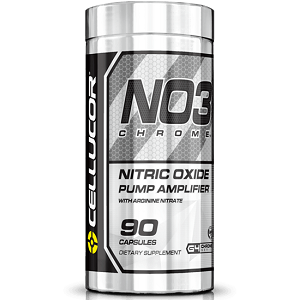 Cellucor NO3 Chrome - Does It Work?-Review
What is Cellucor NO3 Chrome?
Nitric Oxide increases blood flow and stamina while reducing inflammation and muscle pain. Supplements such as Cellucor NO3 Chrome provide the right ingredients to promote the synthesis of Nitric Oxide which, as this product claims, can support your endurance for an effective fitness journey. We shall evaluate this products ability to promote NO3 by examining the ingredients. We shall also assess the customer support provided by the manufacturer to help potential customers decide if this product is right for them.  
Ingredients & How It Works
Vitamin C
Calcium
Arginine Nitrate
Nitrosigine
Vitamin C and Calcium are known to support healthy muscle growth and tissue repair. Arginine Nitrate increases the production and circulation of Nitric Oxide; promoting stamina and performance during workouts. Nitrosigine is the formulas patented ingredient, which is a Nitrosigine Arginine Silicate that is included to promote blood flow and boost Nitric Oxide levels. There is no mention if this product is vegan or if the production abided by GMP guidelines.
Daily Serving
The manufacturer recommends taking 3 capsules on an empty stomach, 60 to 90 minutes before exercise. The dosage does fall into the recommended market range of Arginine Nitrate. There is an extensive warning section, recommending the following persons to avoid using: those under the age of 18; pregnant or nursing mothers; those taking treatments for chest pain, depression, erectile dysfunction, or any other medical supplements. It is recommended customers consult their physicians before use, especially if they have an existing heart condition, diabetes, abnormal blood pressure, or issues or a family history of issues with heart, liver, kidney, or thyroid. Discontinue use 2 weeks prior to surgery and do not exceed recommendations for suggested use. There have been reported side effects such as rashes and throbbing veins.
The Cost
If you would like to buy a pack of Cellucor NO3 Chrome, you can do so online on the manufacturer's website. There are two purchase options, a 90-capsule pack for $29,99; or a 180-capsule pack for $49,99. While there is an opportunity to receive exclusive offers when signing up to the mailing list, it is not a guarantee that you would get something that applies to this product. There are no other discounts available on the manufacturer's website, however, there are a variety of discounts, package deals, flavor options, and a subscription service available on third-party sites such as Amazon.
Guarantee
The manufacturer showcases a level of confidence in their product by offering a 30-day, full money-back guarantee. The return policy is only applicable for products bought directly from the Cellucor website. It is unclear if the manufacturer accepts open or used products or the extent of use that will allow customers to be eligible for a refund. There have been some customer reviews that claim this product is overpriced and ineffective.
Our Review Summary Of Cellucor NO3 Chrome
Cellucor NO3 Chrome has ingredients that have abided by GMP guidelines, satisfy market standard dosage, and have the potential to fulfill the manufacturer's claims of supported endurance and workout effectiveness. However, there are many health risks and the return policy is only applicable for products bought directly from the Cellucor website, so although third-party sites have better value deals and product savings, customers lose the ability to receive a refund. There have also been a variety of complaints that this product was overpriced and provided no actual impact and positive effect. In saying so, we recommend opting for other Nitric Oxide supplements available on the market.
Well researched reviews, from the experts at Research & You.