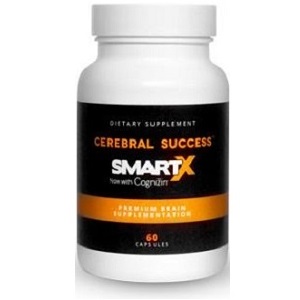 Cerebral Success SmartX - Does It Work?-Review
What is Cerebral Success SmartX?
This review will assess the effectiveness of Cerebral Success SmartX in boosting brain performance. The information will guide your purchasing decision, helping you determine if this is the right product for you. The manufacturer of this supplement claims that it increases mental energy and alertness as well as supports important brain functions. We have analyzed the truth of these claims and how the product may compare to competitors.
Ingredients & How It Works
Huperzine A
Vinpocetine
Phosphatidylserine
Bacopin
Schisandrin A
L-Tyrosine
Cognizin
Glucuronolactone
DHA
Caffeine & L-Theanine
L-Glutamine
B-Vitamins
This formula contains an impressive list of ingredients. Huperzine A prevents the destruction of key neurotransmitters and, thus, prevents the formation of cognitive deficiencies. Vinpocetine increases blood flow to the brain, serving to boost the oxygen levels for optimal brain function. Phosphatidylserine is a structural component of the brain cells and is crucial for brain support. Bacopin is a patented ingredient that works to improve memory retention and boost learning ability. Schisandrin A is considered a fundamental herb for optimal brain support. L-Tyrosine fights mental and physical fatigue. Cognizin is a patented ingredient enhances neurotransmitter communications for improved brain function. The additional ingredients, such as DHA and L-Glutamine, aid in the product's ability to deliver optimal brain boosting support. While these ingredients are beneficial, the formula omits several substances common to high-quality competitor products. DMAE and Ginkgo Biloba, for example, could enhance this formula's effectiveness. Another major concern is that this product does not appear to be manufactured in a cGMP certified facility. This suggests that quality procedures were not a priority during production.
Daily Serving
Users are advised to take one (1) capsule per day. The manufacturer states that users can increase this dosage to two (2) per day, however, advises that you never exceed four (4) per day or sixteen (16) per week. This is likely due to potential side effects. The manufacturer recommends taking days off supplementation for increased effect. They also warn that the supplement may cause nausea, jitters, and/or depression. This is extremely concerning and there are much safer alternatives to consider. The manufacturer does not stipulate the concentrations of each ingredient used which makes it difficult to assess if this dosage is accurate.
The Cost
You can purchase this product online from the manufacturer. A bottle of 60 capsules retails for $65.00. This product is significantly more expensive than alternatives on the market. The manufacturer does, however, offer bulk-buy deals to encourage long-term use. The most popular package is 3 bottles for $150.00, meaning you save $45. While the saving is substantial, the price is still fairly high.
Guarantee
There is a 30 day 100% Satisfaction Guarantee for purchases of this product. This would usually instill confidence, however, this guarantee lacks clarity and guidelines. The manufacturer regrets to stipulate whether this applies to partially used products or if the consumer is subject to restocking fees. The uninformative guarantee does not bode well for product efficacy. Upon further research, we have found a substantial amount of negative customer reviews. More than half of the customers who have purchased this product claimed that it did not work and was extremely expensive.
Our Review Summary Of Cerebral Success SmartX
There are some appealing factors about this brain booster. The formula is impressive and the guarantee suggests a level of confidence in product efficacy. These factors aside, the product is overpriced and lacks many supportive ingredients. The guarantee is unclear and this does not bode well for the product's effectiveness. There are ample negative customer reviews which further reinforce that this product does not work as intended. Therefore, we do not recommend Cerebral Success SmartX.
Well researched reviews, from the experts at Research & You.