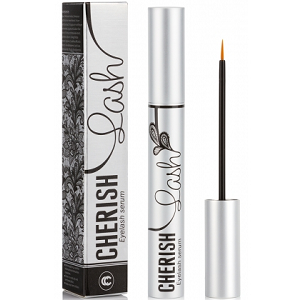 Cherisher Cherish Lash - Does It Work?-Review
What is Cherisher Cherish Lash?
Cherisher Cherish Lash is a combination of natural ingredients that has been formulated to promote eyelash growth and improve their overall condition. In our research for this review, we learned that it will apparently increase the length of eyelashes by 78% and their thickness by 83% with positive effects visible in 21 days.
Ingredients & How It Works
Extracts of coral and pink pearls (mineral salts, amino acids and peptides)
Cardamom extract
False daisy extract
Dyer's woad leaf and broad-left privet extract
Ginkgo Biloba
Aloe Barbanesis leaf juice
Biotin
Cherish Lash incorporates many natural ingredients, but we have highlighted just a few because of their reputation for having a beneficial effect on eyelash condition and growth. The extracts of pink pearls and coral, for example, are said to stimulate eyelash growth and regeneration; the protein in cardamom and false daisy are said to improve blood circulation and provide the lashes with the deep nutrition needed to stimulate growth; ginkgo biloba and Biotin are said to make the lashes more flexible and shiny; while aloe leaf is believed to protect eyelashes and provide care at a cellular level.
Instructions
The instructions for application of Cherish Lash are clear and simple to follow. You must remove your make up from your eyes and face and cleanse with a mild soap or cleansing agent. Then simply apply a small quantity of the product to the clean and dry eyelashes in a single line  just above the roots on the eyelid skin. One brush stroke should be enough to cover the eyelashes.
You should not do this more than once daily because the result does not depend on the quantity or frequency of application. In fact, applying it more than once daily will not nothing more than deplete your supply faster than necessary.
You should start to see results within 2 weeks.
You should continue using the product daily for two months and thereafter reduce this to once or twice a week in order to maintain the results and provide continued lash care.
The Cost
A 3ml tube of Cherish Lash, which should last you for approximately 3 to 4 months, costs $72. You can continue to use the product for up to 8 months after opening the container.
Cherish does offer special deals, but these involve purchasing what it calls a "beauty set" of Cherish Lash in combination with other Cherisher products.
Guarantee
We were concerned that despite a concerted effort searching the Cherisher website, we were unable to find any information about a product guarantee, or even a returns policy. We don't know why this could be. Some might think it's because the manufacturer has some concerns about how effective the product is; or it might be simply that it will not countenance the concept of returns and refunds. To be fair, some manufacturers of these types of products' returns policy are so onerous, that your chance of obtain a refund is negligible.
Our Review Summary Of Cherisher Cherish Lash
Most of the ingredients in Cherisher Cherish Lash are natural. Although the product is expensive (albeit not the most expensive of its kind currently available), it should last for a long time if used as directed.
However, if it doesn't produce the results you would like – and according to Cherisher positive results were seen in only 19 of the 20 women observed - you will not be able to return the product or claim a refund.
Well researched reviews, from the experts at Research & You.