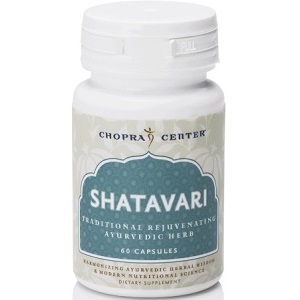 Chopra Center Shatavari Rejuvenating Ayurvedic Herb - Does It Work?-Review
What is Chopra Center Shatavari Rejuvenating Ayurvedic Herb?
This is a review for Shatavari Rejuvenating Ayurvedic Herb, a herbal supplement produced by the Chopra Center. This product claims to assist those suffering from symptoms related to the female reproductive system, particularly for symptoms related to menopause. This supplement claims to have cooling and anti-inflammatory properties that would assist and alleviate hot flashes and soothe tissue irritation. Traditionally Shatavari root was used in India to promote the production of breast milk in nursing mothers.
Ingredients & How It Works
Shatavari root (Asparagus racemosus)
HPMC (hydroxypropyl methylcellulose)
Vegetable Cellulose (Capsules)
Shatavari root or asparagus racemosus is commonly found in products designed to aid in the relief of menopause symptoms. While the manufacturer has positioned Shatavari Rejuvenating Ayurvedic Herb as a natural product, stating on the label that there are no added binders or artificial ingredients - it does include HPMC which is a semi-synthetic viscoelastic polymer or binder, which is chemically manufactured. Which can be deceptive to the user, when considering their 'all natural' promise.
Daily Serving
We were unable to find a recommended dosage on the product label. After further investigation, we did find that the manufacturer's website suggests that the serving size is three capsules. However, there was no other information on the direction for use. Which leaves the user guessing as to how or when they should take this supplement. It is therefore uncertain as to how the product would affect your system. It is advisable to consult a medical professional before starting use.
The Cost
On the manufacturer's website, the cost of one bottle, containing 60 capsules, can be purchased for $24. A discount of 10% is offered if you buy three or more bottles of this supplement. When compared to other Shatavari root products on the market which can be up to $10 cheaper, this price does seem a bit steep
Guarantee
The Chopra Center does have a 30-day money back return policy on their signature products, however, no refund will be offered on products bought on clearance. There was no other form of guarantee available, which begs the question of this product's effectiveness.
Our Review Summary Of Shatavari Rejuvenating Ayurvedic Herb
Our review of Shatavari Rejuvenating Ayurvedic Herb found that this product may have some benefits to the users as the active ingredient has been used to support menopause symptoms. We were, however, concerned with the fact that there was very little information regarding this product and its recommended dosage. Furthermore, we were alarmed to discover that this supplement contained a semi-artificial binder, despite the manufacturer's claims that this is an all natural product. With limited information and an expensive price tag, we feel that customers could opt for other Shatavari products on the market.
Well researched reviews, from the experts at Research & You.