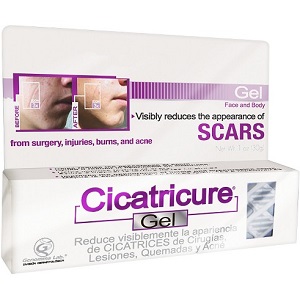 Cicatricure Scar Gel - Does It Work?-Review
What is Cicatricure Scar Gel?
This is a review about Cicatricure Scar Gel. The manufacturer claims to have designed a scar gel which is effective in fading the appearance of old and new scars. These scars could be from injuries or surgery or even blemishes from acne or burns. It claims to be clinically proven to improve the skin tone and evenness whilst also moisturizing the skin. To learn more about the ingredients and how Cicatricure Scar Gel works, read our review below.
Ingredients & How It Works
Water
Glycerin
Carbomer
Propylene glycol
Chamomilla recutita (Matricaria) flower extract
Allium cepa (Onion) bulb extract
Polysorbate 20
Phenoxyethanol
Centella asiatica extract
DMDM Hydantoin
Sodium hydroxide
Decolorized Aloe barbadensis leaf extract
Diazolidinyl urea
Sodium benzoate
Disodium EDTA
Allantoin
Citrus aurantium bergamia (Bergamot) fruit oil
Phytonadione
Cicatricure Scar Gel is filled with many different ingredients, however we were unable to find the quantity of each and the specific properties or combined properties of the ingredients. Uncertainty of the quantities could indicate that this product is not effective.
Daily Serving
If the scar is new, manufacturers indicate applying Cicatricure Scar Gel 4 times per day for 8 weeks. A liberal amount of gel must be used on the affected area. Older scars need to be treated 3 times per day for 3-6 months. This product is only intended for external use and should not be applied to open wounds or irritated skin. Stop applying Cicatricure Scar Gel if irritation or a rash occurs.
The Cost
Cicatricure Scar Gel can be purchased online from various third party sellers. A list of these sellers can be found on Amazon, where it can also be purchased. The price ranges from $12.99 to $18.62 depending on who you purchase it from. The manufacturer does not offer any discounts or bulk packages for purchase. This may be a concern for customers who need to use Cicatricure Scar Gel for 3-6 months and would like to buy in bulk.
Guarantee
There is no evidence found by us that the manufacturer offers a money-back guarantee. The different resellers only refer to the return policy from Amazon. It is very unfortunate that customers do not have the freedom to use the product and be able to return it for a refund if they are not satisfied.
Our Review Summary of Cicatricure Scar Gel
There are a few things to like about Cicatricure Scar Gel. It contains many ingredients which are crucial for scar treatment and comes in an easy to use tube. There are however a few concerns we have about Cicatricure Scar Gel. Even though there is a long list of ingredients, some very important for scar treatment, it is unclear what the quantities are of each. There might be too little of an essential ingredient and could prevent this product from fulfilling its purpose. Another concern we have is the lack of guarantee by the manufacturer. This prevents a new customer who wants to purchase Cicatricure Scar Gel as they have no security of a refund if unsatisfied. Due to these reasons, we do not recommend Cicatricure Scar Gel.
Well researched reviews, from the experts at Research & You.