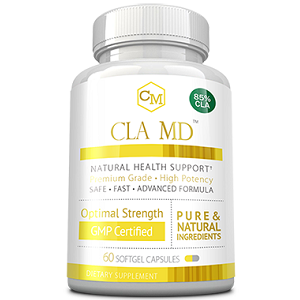 CLA MD - Does It Work?-Review
What is CLA MD?
If you want to lose weight and need a dietary supplement to help do so, then have a look at our review, below, of CLA MD. This product is derived from the Safflower oil which, the manufacturer claims, is effective in burning fat and helping you lose weight. It is also said to boost metabolism and curb hunger. Is CLA MD the weight loss supplement you've been looking for? Read on for all the details.
Ingredients & How It Works
There is only one ingredient that is listed in this product and that is CLA sourced from safflower oil and standardized to 85%. This concentration, according to the manufacturer, is not available in most CLA products. Since it has no preservatives or additives, it is completely natural and comes in a soft gel capsule for easy absorption.
CLA is a chemical that is known to reduce body fat deposits and improve function of the immune system. It has been known to reduce feelings of hunger and help people lose weight. It also boosts immunity and increases lean muscle tissue.
Daily Serving
Adults should take two capsules daily, one in the morning and one in the evening. Optionally both capsules can be taken together. However, users should not exceed the recommended dosage. Pregnant or nursing woman, those under 18 or with a known medical condition should consult a physician before using this supplement.
The Cost
CLA MD makes a few packages available. The most straightforward is a one-bottle (one-month) supply priced at $49.95. A two-bottle supply is $34.95 each. If a customer purchases the package with four bottles the price per unit drops to $27.95. The price drops to $23.30 per bottle if you would like to purchase the largest, six-bottle, plan.
Guarantee
CLA MD offers a strong guarantee of 60-days to return the product for a full refund and covers both opened and unopened product. Since most dietary supplements have to be followed with a proper nutrition plan, users should see results within one to two months, well within the time frame of the guarantee.
Our Review Summary of CLA MD
CLA MD was formulated based on research by medical doctors and is produced in a cGMP facility. These facts give us confidence in both its effectiveness and quality. In addition, the generous return gives credence to the stock we put in this product. Since it contains only one ingredient, conjugated linoleic acid at its highest potency, it has been designed to optimize weight loss and burn fat as well as suppress the appetite. After much research, we've found many studies that confirm this fact, including reviews in the American Society for Nutritional Sciences and the Journal of Nutritional Biochemistry. While we would have been reluctant to promote a weight loss supplement, we find ourselves agreeing that if you will be using a supplement alongside a healthy diet and regular exercise plan, this product is certainly worth trying. The price is correct in its category and the guarantee gives you every benefit to return the product if unsatisfied.
Well researched reviews, from the experts at Research & You.