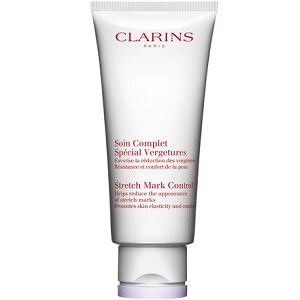 Clarins Stretch Mark Minimizer - Does It Work?-Review
What is Clarins Stretch Mark Minimizer?
The following reviews will explore all the real facts about Clarins Stretch Mark Minimizer. The Manufacturer claims that this product will help prepare your skin for fast changes that affect it such as pregnancy, puberty and weight changes by beneficially soothing and comforting the skin and also helping to maintain skin texture.
Ingredients & How It Works
The active ingredient in this product is Centella Asiatica, also known as Gotu Kola. This ingredient contains chemicals that may reduce swelling and may also increase the production of collagen which can greatly benefit the health of your skin, it can be applied to the skin to help wound healing and scar reduction.
Daily Serving
The manufacturer suggests that you should gently massage this product onto the applicable areas and neglects to recommend any further instructions which is somewhat unusual and also seems rather negligent as this would have an influence on the effective results.
The Cost
This product can be purchased online from the manufacturer's website and one tube containing 6.8 oz will cost you $56.00. There seem to be no suggested discounts offered which is extremely disappointing because this is a rather unaffordable option especially when comparing it to most other similar products.
Guarantee
The manufacturer does not provide a money back guarantee for this product and although they do have a return policy available, it is only relevant if the product has not been opened or used and therefore, it does not ensure the effective results of this product which indicates that the manufacturer is not completely confident. This is also concerning because Clarins Stretch Mark Minimizer is a very expensive product.
Our Review Summary Of Clarins Stretch Mark Minimizer
When considering that this product does use a good ingredient that may be beneficial for the health of your skin and this might imply that it is an ok product. However, in comparison to most other similar product, Clarins Stretch Mark Minimizer seems to lack more beneficial ingredients and the manufacturer has neglected to provide adequate information regarding cautions and usage instructions which could influence the effective results. This is also realistically, an unaffordable product that has no manufacturer's guarantee to ensure that it really is effective and therefore, it may not be effective at all. Based on all the relevant information for this product, it, unfortunately, does not seem to possess any significantly superior characteristics and there is insufficient evidence to suggest that it can effectively improve the appearance of stretch marks and therefore, we recommend that you rather consider other similar more suitable products that are available from leading brands because they have proven to be effective.
Well researched reviews, from the experts at Research & You.