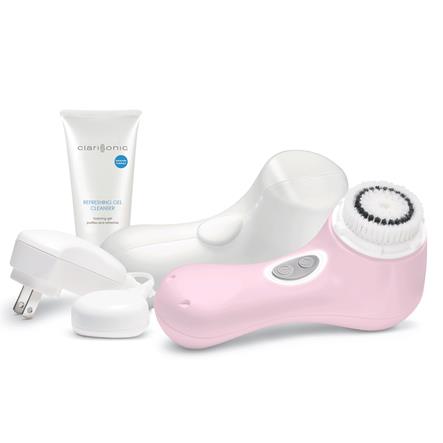 Clarisonic-Review
Clarisonic relies on an USP of using sonic technology in its suite of beauty products, including a handheld face scrubbing device called Classic Skin Care System. The device has since been upgraded in the form of a PLUS version followed by still newer miniature upgrades in the form of Mia and Mia 2.
About the Product
Pills, powders, ointments and creams are the norm among beauty product manufacturers and few, if any, break the mold to innovate with new products aimed at addressing skin care concerns. Clarisonic ranks among the minority of companies offering unique beauty care solutions and its system relies on sonic wavelengths used to rid your face of oil, dirt, make up and other built up residue. Given the innovative nature of the product, we decided to investigate the company's claims and establish whether the product met with its promised performance.
How it Works
As this is a unique product, it is not apparent what exactly Clarisonic is or how it works to clean your face in a more effective way than conventional methods. The company explains it as a sonic system that cleanses skin by using a patented sonic frequency that exceeds 300 movements a second. The process is said to act gently on the skin while helping the thorough removal of more oil, (twice as much), dirt and (six times as much) make up than if you were to do it manually. Beauty and radiance result from healthier smooth skin that in turn results from cleaner skin. The promise sounds good but the proof of the proverbial cake is in the eating. A surfeit of positive feedback has resulted in excessive hype about the company's suite of beauty products. While a technical claim of using sonic technology could easily be construed as a gimmick by users who don't understand what the company is talking about, Clarisonic has received enough positive reviews to cause one to sit up and take notice of the product.
How Much it Costs
The Clarisonic suite of products could set one back by anything from $120 to $225 depending on the features sought by a prospective buyer and how much such buyer is prepared to spend on owning a Clarisonic device. At the highest price range is the Plus that costs $225, and the less expensive models are the Classic ($195), the two-speed Mia ($150) and the original Mia ($120). In our estimation, best value of money is delivered by Mia 2 that compares with the Classic in giving you a dual speed benefit while at the same time costing less and being more portable.
How You Make it Work
Skin care is a continual need and therefore can be very time consuming. But people tend to take it for granted, especially those who cannot afford to spend too much time on it. The Clarisonic system should come as a relief to such people as it is a faster process owing to the 200 oscillations per minute delivered by the hand held devices.
Final Review
The micro-massage motion of the Clarisonic devices is friendly to the natural elasticity of the skin while helping to cleanse your face; users will welcome the absence of irritation or causation of other problems. You can also save money by replacing the head of the device periodically rather than trash the whole device making it a useful skincare solution. The sonic system is said to benefit your skin by removing make up six times in excess of that which is removable manually. The skin is left feeling and appears smoother, while the device rids your skin of impurities that serums and creams appear unable to do. Its gentle nature allows you to use it twice daily while helping to rid your skin of blemishes, patches of dry skin, and oily areas while pores also appear less visible. The company does not resort to making untenable claims and it is apparent from the nature of the device that it's a better alternative to manual cleansing using a loofah or washcloth or just your hands. The speed of oscillation points to speedier cleansing and the user's main challenge is deciding how much cleansing is enough. Real users give positive reviews to most of Clarisonic's suite of products, as for instance, the classic Skincare Brush that finds favor with four of five consumers. And this statistic is not gleaned from just a handful of reviews but several hundreds thereby giving it greater credibility. And this does not appear to be accidental, given that Mia and Mia 2 also earn similar good reviews. The positive feedback extends not just to the brush but also to the others in the suite of Clarisonic products. The sheer number of positive reviews points to their being authentic feedback from end users as to the unimpeachable quality of the products offered by Clarisonic. While the positive reviews do paint a rosy picture, Clarisonic also attracts negative feedback from some users. This is only natural considering the subjective nature of beauty and skincare. Also, given the many skin types amongst people, it's impossible for a product to treats all skin types with the same effectiveness. Coming back to the large volume of positive feedback, it justifies trying this revolutionary new system and see for yourself how effective it is and whether it's worth the fuss. The proportion of positive reviews point to odds of 4/5 that you will like it and that kind of probability cannot be sniffed at. This reviewer is willing to stick his neck out and endorse Clarisonic skin cleansers, particularly the Mia 2 that gives best value for money by offering the best benefits of the Classic model in a more portable and inexpensive avatar.
Well researched reviews, from the experts at Research & You.