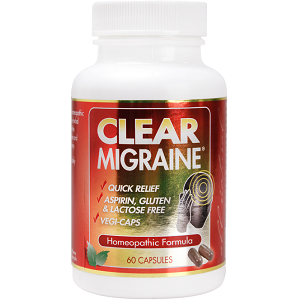 Clear Products Migraine - Does It Work?-Review
What is Clear Products Migraine?
This Clear Products Migraine review examines the details of the product and what the manufacturer has to offer. This product claims to provide quick temporary relief from symptoms associated with migraine headaches, due to its homeopathic and herbal ingredients. Keep on reading to discover all the information about Clear Products Migraine and see if it is worth trying.
Ingredients & How It Works
Bryonia 6x
Hypericum 3x
Iris Versicolor 6x
Kali Bichromicum 3x
Natrum Muriaticum 6x
Sanguinaria 3x
Spigellia 6x
Corydalis Tuber
Angelica Sinensis Root
Ligustici Root
Peony Root
Peuraria Root
Angelica Dahurica Root
Chrysanthemum Flower
Gastrodia Tuber
Rehmannia Root
Siler Root
Ginger Root
Lycium Fruit
Tangerine Peel
Licorice Root
Clear Products Migraine contains homeopathic ingredients as well as a herbal blend. It claims to provide anti-spasmodic effects to relieve muscle spasms, anti-inflammatory effects to reduce swelling, and also helps to increase peripheral and micro-circulation. Unfortunately, our research has provided us with the information that this supplement does not contain the necessary clinical ingredients to be as effective as other brands. It lacks riboflavin, magnesium, feverfew, and butterbur. In addition to this, it also lacks piperine which is essential for increased bioavailability.
Daily Serving
The user is recommended to take 3 capsules every 3 to 4 hours at the onset of a migraine. It can be taken as needed or as directed by a healthcare professional. Never exceed 12 capsules within any 24-hour period. It is best to combine the use of this supplement with regular exercise and enough rest.
The Cost
The product is available for online purchases from the official website. A bottle of 60 capsules costs $16.99. This price is very low and may be a result of low-quality ingredients or the lack of high quality clinically proven ingredients.
Guarantee
Customers may return products within 90-days from the purchase date, if they are not satisfied. First one must provide the manufacturer with a reason for dissatisfaction. If this is approved, you will be refunded. We are however quite concerned with the fact that the manufacturer does not state the condition the product must be in upon returning it and if it will be accepted opened or sealed. Lack of crucial information like this may result in a refused request of returns.
Our Review Summary Of Clear Products Migraine
After our review of Clear Products Migraine, we have found a few things that we like about the product. The user is provided with clear usage instructions to ensure optimal results.
There are however many more things about the product that we do not like, which must be addressed. First of all, the product does not contain any clinically proven ingredients and this may result in a less effective supplement in comparison with other brands. Furthermore, the product is priced very low in comparison with other brands and may indicate the use of low-quality ingredients. Finally, the manufacturer provides a very weak money-back guarantee that is basically useless and which will probably leave the customer at risk. Due to these reasons, we are unable to recommend the safe and effective use of Clear Products Migraine.
Well researched reviews, from the experts at Research & You.