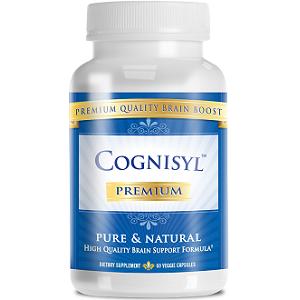 Cognisyl Premium - Does It Work?-Review
What is Cognisyl Premium?
Cognisyl Premium is a supplement designed to enhance your cognitive performance and mental energy. They help a person to focus better and be able to concentrate for longer periods of time and they have a positive effect on memory enhancement. The product is manufactured in an FDA approved facility and is third-party tested for its quality. The ingredients are completely natural but there is good scientific evidence to support their effectiveness in boosting brain power.
Ingredients & How It Works
Huperzine A
Magnesium
L-Tyrosine
L-Theanine
Vitamin B1
Vitamin B2
Vitamin B3
Vitamin B6
Vitamin B12
Choline Bitartrate
DMAE
Alpha Lipoic Acid
Phosphatidylserine
Acetyl-L-Carnitine
Brahmi
Guarana
Glutamine
Ginkgo Biloba
St. Johns wort
The vitamins and minerals included in this product help to nourish the brain cells to keep them healthy so that they can perform to their best ability. Vitamin B12 is also part of the cellular pathway that metabolizes homocysteine. Homocysteine has been linked to cognitive decline so vitamin B12 helps to prevent that. Some of the ingredients also help the brain cells to be able to remodel themselves to improve memory, which is based on physical connections between brain cells. Some of the ingredients help to improve the excitement of the brain cells so that focus can be enhanced and mental energy can be restored.
Daily Serving
Two capsules of Cognisyl Premium can be taken each day. The manufacturer has determined that the best results come when customers take one capsule in the morning and one capsule in the afternoon.
The Cost
There are various pricing options for the customer to choose from. Customers who would like to try the product can purchase a single month supply for $48. Customers who would like to buy large is supplies pay a discounted price. For example, three bottles of Cognisyl Premium cost $91, which is $30.33 per bottle instead of $48. Four bottles of Cognisyl Premium cost $112 which is $28 per bottle. A large supply of six bottles can be bought for $138 which is $23 per bottle. One bottle contains 60 capsules.
Guarantee
If a customer is unsatisfied for any reason with their results from using this product, then they may return it within 90 days for a complete refund. Premium Certified accepts opened and empty containers and does not charge the penalty for this. From what we have observed in the customer reviews about this product, customers appear to be satisfied with this product generally.
Our Review Summary Of Cognisyl Premium
There is quite a bit of evidence that points to the fact that this is an effective supplement. The first evidence we can base this conclusion on is that the ingredients are all scientifically researched for their biological properties. Secondly, they are included in the supplement at levels which match those of the scientific studies that examined their effects. Lastly, the extensive guarantee suggests to us that this manufacturer is so sure that their product will work, that they are willing to put their money where their mouth is. 
Well researched reviews, from the experts at Research & You.