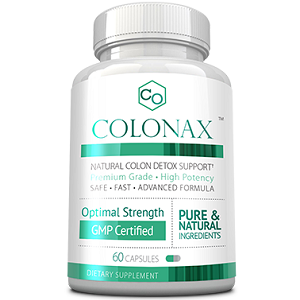 Colonax - Does It Work?-Review
What is Colonax?
Colonax is a colon cleansing/detox supplement which is said by the manufacturer to improve digestive tract health. It is claimed to promote regularity to help eliminate body waste, support the maintenance of proper levels of bacteria in the digestive system and preserve pH balance while reducing the severity of constipation and keeping it from coming back. The company notes that the ingredients it has chosen for its colon cleanse formula have been the subject of articles published in a number of industry journals, articles which have confirmed their benefits.
In our review of Colonax below, we look at the product in detail to give you the information that will help you determine if it's the detox product that you are looking for.
Ingredients & How It Works 
Oat Bran
Black Walnut
Prune Juice
Bentonite Clay
Papaya Leaf
Flax Seed Powder
L-Acidophilus
Apple Pectin
Gluccomannan
The inactive ingredients include:
Gelatin
Calcium Carbonate
Magnesium Stearate
Colonax includes an extensive combination of ingredients. Oat Bran, Psyllium Husk, Prune Juice and Aloe Vera are well known for their laxative properties and L-Acidophilus is a recognized probiotic that helps with digestive system health. Some of the more intriguing components include Mangosteen, which is said to have robust anti-inflammatory and antioxidant properties for enhancing digestive tract health; Black Walnut, which is included for its anti-fungal and antibiotic characteristics; Bentonite Clay, a natural detox substance; and Papaya Leaf, a source of Papain which helps in protein digestion and in maintaining a flourishing an active and sound gut.
Daily Serving 
The manufacturer recommends an initial and a maintenance dosage. When first taking Colonax, take a total of six capsules daily, two with each main meal of the day. The daily maintenance allotment is two capsules per day, morning and afternoon. 
Before taking this supplement the following persons should consult with their doctor: Pregnant or nursing women, those with an existing medical condition and those under the age of 18.
The Cost 
To buy Colonax go to the product website where you can choose from several purchase alternatives. Each bottle contains 60 capsules. The single-bottle starter option was priced at $49.95 at the time of our review. Doubling that quantity came with a significant reduction per bottle at $34.95. A four-bottle package was being sold for $27.95 each while a six-unit set was priced at $23.30 each, which is less than half the one-bottle cost.
Guarantee
Not all nutritional supplements come with a money-back guarantee. And those that do often only give you 30 days and often only accept back unopened product for refund. The manufacturer of Colonax loosens all these restrictions considerably, giving you two months to try it out and, if you're not satisfied, you can return all bottles, opened and unopened, for a refund.
Our Review Summary of Colonax
Colonax looks like a good bet to help gently cleanse your digestive system and promote regularity and intestinal health. We like that it's produced under cGMP standards in an FDA-certified facility in the USA. We also like that it contains only natural ingredients. And finally, the return/refund policy indicates the company's confidence in its own product. We feel Colonax is a product worth testing out.
Well researched reviews, from the experts at Research & You.