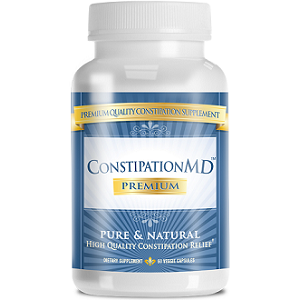 ConstipationMD Premium - Does It Work?-Review
What is ConstipationMD Premium?
Constipation is an irritating condition that can affect any person of any age. It is caused by the number of things, but is particularly related to inflammation in the intestine. It can leave a person feeling uncomfortable and bloated and if it is not sorted out, it can become more complicated. ConstipationMD is an all natural supplement that contains ingredients designed to reduce the onset and effects of constipation. It meets all of the quality standards of US Pharmacopeia and therefore contains no impurities. We review ConstipationMD for all the facts.
Ingredients & How It Works
Psyllium Husk
Senna Husk
Papaya Leaf
Mangosteen
Black Walnut Leaves
Gluccomannan
Apple Pectin
Aloe Vera Powder
Oat Bran
Prune Powder
Flax Seed Oil
Some of the listed ingredients contain high amounts of fiber. Fiber helps digested foodstuff to move through the digestive tract because it acts as a bulking agent to which the digested matter can stick. When it all forms this large complex, it is much easier to eject from the intestine. Other features of these ingredients include chemical effects that cause the muscles in the intestine to contract better to move the digested matter along.
The L. acidophilus is a probiotic bacteria that metabolizes a number of macronutrients that are difficult to break down otherwise, and it reduces levels of harmful bacteria that may contribute to the development of constipation.
Daily Serving
A total of six capsules must be taken each day by taking two capsules in the morning, two capsules at noon and two capsules in the early evening. The supplement can also be used for daily maintenance by taking one capsule in the morning and one capsule in the afternoon.
The Cost
Customers can choose from the four pricing options, Where they pay less per package as they buy more packages together. This is most likely to support the customers that want to buy long-term doses of the product at cheaper rates.
One package on its own costs $48
Three packages together costs $91 ($30.33 per package)
Four packages together costs $112 ($28 per package)
Six packages together costs $138 ($24 per package)
Guarantee
ConstipationMD Premium is fully guaranteed with a 90 day money back guarantee. The guarantee lets customers try out the product and if they are unhappy with the result they can return the empty package for a full refund. The customer feedback reviews on this product are mostly positive.
Our Review Summary Of ConstipationMD Premium
The multiple actions of the ingredients in the supplement add up to produce an effect that really helps to reduce constipation. This supplement does this without causing harmful side effects which is a major bonus. The price of this supplement is also very reasonable and it's quite admirable that customers can get discounts to help them save money. The guarantee on this product is also quite strong and really gives the customer time to experience the product to make sure they are happy with it. This manufacturer also produces other products which you can read about here. 
Well researched reviews, from the experts at Research & You.