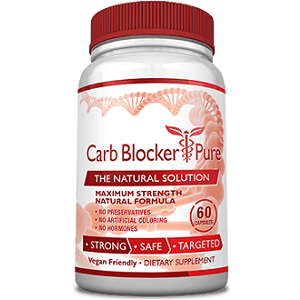 Consumer Health Carb Blocker Pure - Does It Work?-Review
What is Consumer Health Carb Blocker Pure?
Today we review Carb Blocker Pure which is manufactured by Consumer Health. This manufacturing company knows that getting fit and healthy can be a bit of a challenge so they decided to specifically make a  supplement that can aid you on becoming the best version of yourself. Carb Blocker Pure claims to reduce fat absorption, suppress appetite and maintain the sugar levels in your blood. It also helps to increase your metabolism and effectively boosts your energy to maximize your weight loss. This product also does not contain any hormones, artificial coloring or preservatives and is suitable for vegans. To find out more information about this product, read the rest of our review below.
Ingredients & How It Works
White Kidney Bean
Prickly Pear
Cinnamon
Lipase
Protease
BioPerine Black Pepper.
This product contains 2000 mg of White Kidney Beans per serving which is a very high and potent dose that will definitely help you to see results fast since this ingredient acts as a carb blocker. Prickly Pear promotes weight loss by actively binding with fat thereby reducing fat absorption. Cinnamon has antimicrobial and antiparasitic effects. It is also high in antioxidants and also helps to lower cholesterol. Lipase boosts your immunity and also maximizes absorption when it comes to vitamins and minerals in food. Protease is another digestive enzyme which helps to break down food and fat effectively and BioPerine allows for optimal absorption of important nutrients.
Daily Serving
It is recommended that you take 2 capsules per day with meals. For the best results it is advised that you take one capsule in the morning and one in the afternoon. If you are pregnant, nursing or taking any other medication it is really important to first speak to your doctor before taking this supplement.
The Cost
You can order this product directly from the manufacturer's website for $49.95 per bottle. Two bottles will cost you $34.95 each, four bottles will cost you $24.95 each and six bottles will cost you $23.30 each. Each bottle contains 60 capsules and will last you exactly a month.
Guarantee
This product comes with a 60-day money back guarantee. If you want to receive your full refund it will be necessary to return all bottles, opened or unopened within 60 days of the shipping date.
Our Review Summary of Carb Blocker Pure
We like that this product aims to support a healthy lifestyle by helping you to lose weight naturally. We also like that this product has a high dosage of quality ingredients that have been scientifically proven to help with weight loss. The fact that this product comes with a solid guarantee shows that the manufacturers of this product has complete faith in the efficacy of this product and it also means that customers are not risking their money when buying this product. You also boost your immunity and overall health when taking this product since some of the ingredients are packed with antioxidants and actively help to lower your cholesterol.
Well researched reviews, from the experts at Research & You.