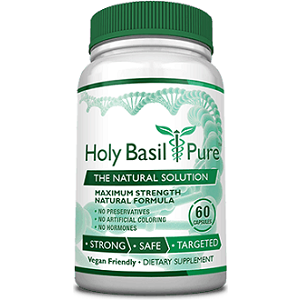 Consumer Health Holy Basil Pure - Does It Work?-Review
What is Consumer Health Holy Basil Pure?
Today we review Holy Basil Pure manufactured by Consumer Health. Holy Basil Pure claims to target inflammation, stress, anxiety and it helps to block cortisol production. This supplement also helps to keep your blood sugar levels in check. This product supports overall health and has natural anti-inflammatory, antifungal and antibacterial properties. If you have a fast-paced life and you regularly struggle in managing your stress levels, then investing in a supplement that can help you stay calm may be very beneficial. Read the rest of this review to find out if this product can really help you.
Ingredients & How It Works
This product contains 1000 mg of Holy Basil Leaves per capsule that have been standardized to a minimum of 2.5% Ursolic Acid. This supplement also does not contain any preservatives, hormones or artificial coloring. Holy Basil Leaves are also known as Tulsi and have been used for years in Ayurvedic medicine practices because of its many health benefits. This ingredient supports the immune system and actively helps you to combat stress in your day to day life. This is achieved through the blockage of the stress hormone, cortisol. This ingredient also has antihistamine and anti-anaphylactic properties which help to combat inflammation in the body.
Daily Serving
It is recommended that you take 2 capsules per day with meals. For optimal results you can take one capsule in the morning and one in the afternoon. If you are pregnant, nursing or suffering from a serious medical condition please consult your doctor before taking this supplement.
The Cost
This product is available online and can be purchased directly from the manufacturer's website. Each bottle contains 60 capsules and will last you a full month if you follow the recommended dosage instructions. Every customer has a myriad of options when it comes to the ordering size of this product. One bottle will cost you $49.95, two bottles will cost $34.95 each, four bottles will cost $24.95 each and six bottles will cost $23.30 each.
Guarantee
This product comes with a 60-day money back guarantee that takes away any financial risk when placing an order. You may return any opened or unopened bottles of any shipment within 60 days of the shipping date to receive your full refund. Please call the customer care department if you have any questions and also to confirm the products being returned before returning your products.
Our Review Summary of Holy Basil Pure
We like that this product only uses natural ingredients to help improve your mood, anxiety and overall well being. The dosage of Holy Basil per day is also optimally high and very competitive compared to other leading manufacturers. This means that you can expect to see results sooner than anticipated. Seeing as you can choose the number of bottles you want per order this makes it very easy to find the perfect quantity of product you will be needing, and it also gives you the opportunity to save more money with every purchase.
Well researched reviews, from the experts at Research & You.