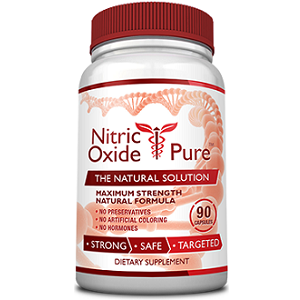 Consumer Health Nitric Oxide Pure - Does It Work?-Review
What is Consumer Health Nitric Oxide Pure?
Today we review the product Nitric Oxide Pure manufactured by Consumer Health. This product claims improve cardiovascular health, blood flow, muscle building, workout endurance and also speeds up the time of your muscle recovery. The manufacturing company of this product also claims that this product achieves all of these things mainly by increasing the flow of oxygen and nutrients to the muscles that need it, providing them with excellent conditions in which they can thrive. This means that you can possibly enjoy longer and more productive workouts especially when it comes to high-intensity strength training. If you are curious about this product and would like to know more, read the rest of our review below.
Ingredients & How It Works
L-citrulline
Beetroot
Pine Bark
Quercetin
Fenugreek
Longlack
Oat
Bullhead
Secondary ingredients include Microcrystalline Cellulose, Stearic Acid, Magnesium Stearate, Silicon Dioxide and Gelatin. This product also claims to not incorporating any preservatives, artificial coloring or hormones in the making of this product. Nitric Oxidase causes vasodilation that enhances blood flow throughout the body. This in turn helps muscles to grow and also helps with the release of important hormones such as testosterone. Adrenaline is also released more rapidly which boosts exercise performance capabilities and helps to recover muscles faster after every workout.
Daily Serving
It is recommended that adults take this supplement 30 minutes before workouts. You can take 3 capsules daily with each meal. On strenuous workout days, you can take an additional 3 capsules in the mornings with breakfast. On days when you will not be working out, take 3 capsules in the mornings and another 3 capsules in the evenings, in order for muscles to recover faster. If you are pregnant, nursing or taking subscription medication it is advised that you speak to your doctor before taking this supplement.
The Cost
This product can be bought online, directly from the manufacturer's website.  One bottle contains 90 capsules and will cost you $49.95, two bottles will cost you $34.95, four bottles will cost you $24.95 and six bottles will cost you $23.30. The manufacturers of this product are also currently offering an exclusive special, where you get 3 bottles for free if you purchase the 6 bottle package deal. Discounts like this show that this product is really committed in helping you getting positive results and it makes this product very competitive price wise.
Guarantee
This product comes with a 60-day money back guarantee which reflects the manufacturer's confidence in this product. You are welcome to return all opened and unopened bottles to receive your full refund if you are unhappy with your results.
Our Review Summary of Nitric Oxide Pure
We like that this product is so competitive price wise and that offer affordable solutions to customers who are looking to buy this kind of supplement in bulk. The 60-day guarantee also offers peace of mind and the fact that this product contains natural ingredients which have been scientifically proven to improve physical performance also makes it more trustworthy.
Well researched reviews, from the experts at Research & You.