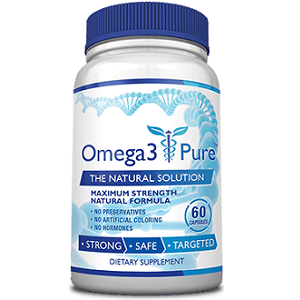 Consumer Health Omega 3 Pure - Does It Work?-Review
What is Consumer Health Omega 3 Pure?
Today we review Omega 3 Pure manufactured by Consumer Health. This product aims to improve your cardiovascular health, reduce inflammation in your joints and to support your cognitive health. Omega 3 fish oils can also help to reduce your triglyceride levels and can also play a role in enhancing your mood. The manufacturers of this product also ensure that this product is 100% pure and natural so that it can effectively improve your mind and your body. This product is free from artificial ingredients, binders and fillers and it contains high-grade ingredients that are backed up by science. To read more about the health benefits of taking this product, read the rest of our review below.
Ingredients & How It Works
Eicosapentaenoic Acid
Docosahexaenoic Acid
Other Omega 3 Fatty Acids
Secondary ingredients include Omega 3 Fish Oil, Capsules and a Proprietary Antioxidant Blend. There are also traced of soy in this product. Omega 3 fatty acids are not produced by our bodies but we do need it to function optimally. Ideally we get this fatty acid through healthy food sources but it is also essential to take supplements in order to receive an adequate daily dose of Omega 3. The two most important fatty acids are Eicosapentaenoic Acid and Docosahexaenoic Acid. These two fatty acids have unique antithrombotic and antiatherosclerotic effects and help to offer overall health benefits both cognitively and physically.
Daily Serving
It is recommended that you take 2 softgels daily with each meal as a dietary supplement. For the best results possible, take 1 softgel with breakfast and one with dinner. If you are pregnant, nursing or taking prescription medication then it is best to talk to your healthcare provider before taking this supplement. Please do not ingest this product if you are allergic to soy or shellfish. If you experience any adverse reactions when taking this product please discontinue use immediately.
The Cost
You can order this product directly from the manufacturer's website. Each bottle comes with 60 tablets and there are different ordering sizes to choose from. One bottle costs $49.95, two bottles cost $34.95 each, four bottles costs $24.95 each and six bottles costs $23.30 each. There are currently also a discount on the six bottle ordering option which ensures that you pay for three bottles and get the remaining three bottles for free.
Guarantee
This product comes with a 60-day money back guarantee that ensures you will be refunded within that time frame if you find that you are unsatisfied with this product. You can return opened and unopened bottles and still be fully reimbursed.
Our Review Summary of Omega 3 Pure
We like that this product goes the extra mile to ensure that customers have various ordering options. We also like that this product is affordable and very competitive when it comes to quality. Seeing as there are also no artificial ingredients included in this product, we also regard it to be a healthier option compared to similar products on the market.
Well researched reviews, from the experts at Research & You.