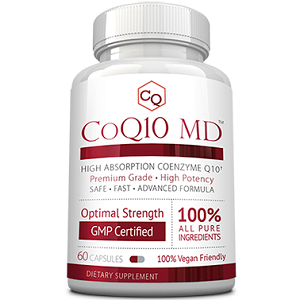 CoQ10 MD - Does It Work?-Review
What is CoQ10?
The following is our review of CoQ10 MD. This product boosts antioxidant levels, regulates blood sugar levels, helps the body produce energy for cell growth, protects against cognitive diseases, and improves cardiovascular health. It contains quality ingredients for the most effective results and for protection and restoration of cells in the body. Continue reading for our full review.
Ingredients & How It Works
Coenzyme Q10 – 250 mg
BioPerine (Piperine) – 10 mg
Other ingredients include: Vegetable cellulose and rice flour.
The Coenzyme Q10 found in this product is used as an antioxidant. It helps the body produce energy while protecting the brain, heart, and skeletal muscles. Harmful molecules may usually cause damage to those body parts. BioPerine is found in black pepper and works by increasing the absorption and bioavailabiltiy of nutrients. These supplements are vegan.
Daily Serving
It is recommended to take each capsule with an 8 ounce glass of water once in the morning and once in the afternoon. Each capsule should be taken 30 minutes before a meal. These instructions are very clear which will help the customer get the best results.
The Cost
CoQ10 MD is usually sold on the manufactures website for $59.95 per bottle but is now on sale for $49.95. There are options to buy it in bulk as well and save money. You can buy 2 bottles for $69.90, 4 bottles for $111.80, and 6 bottles for 139.80. Obviously the greatest deal is for when you purchase 6 bottles. It comes out to only $23.30 a bottle, which is more than a 50% saving. This is a very affordable price for a month's supply of supplements.
Guarantee
The manufacturer offers a risk-free 100% satisfaction guarantee. If at any point you are unsatisfied with your purchase, you can return the opened and unopened bottles within 60 days of purchase for a full refund minus shipping and handling. You will first need to contact customer support for the return number and return address. The return number has to be put inside or outside your package with your name and address included. Then you are ready to ship it. If you have any questions, you can contact customer support who are always available to help.
Our Review Summary of CoQ10 MD
There are many positive qualities of CoQ10 MD. It has an effective amount of 250 mg coenzyme Q10 which should give you the ultimate results. The product's goals are clear and simple; To help boost your antioxidant levels, improve your cardiovascular health, and produce energy for cell growth. The instructions for this product are clear and concise. This product is also sold at a very affordable price, especially if you decide to buy in bulk. The manufacturer provides and excellent and strong money-back guarantee which leads us to believe that they have a lot of confidence in their products effectiveness and also gives you confidence when purchasing it. There were also many positive customer reviews that shows that this product definitely gets the job done.
Well researched reviews, from the experts at Research & You.